"The Vulture" - a music lesson plan for minor chords
Any music lesson plan on theory is meaningless without MUSIC to illustrate the principle.  Take a look at both a lead sheet and a full piano arrangement of Hilaire Belloc's humorous poem "The Vulture" for an illustration of minor chords in root and inversion positions.

The Vulture nicely shows the mood that minor chords can set, and how tension builds naturally as a chord progression plays out.  Introduce this song, and your students will "GET" minor cadence chords.  
First, a "simple" lead sheet.  (No, the melody is not a simple one like Mary Had a Little Lamb.  Students must be able to read and get around in the treble clef to master this melody!)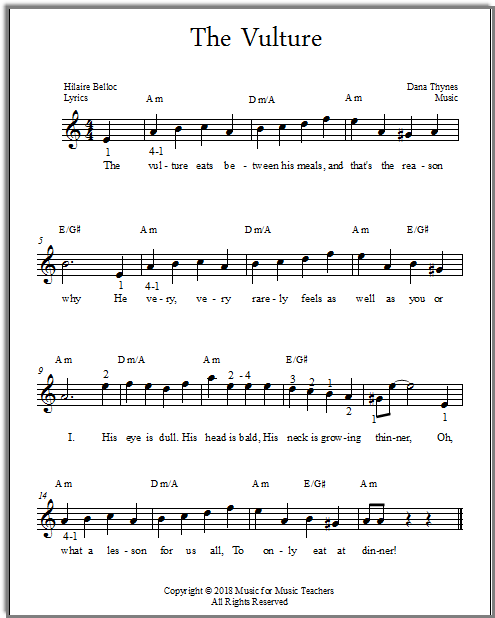 Download music lesson plan song "The Vulture" as a lead sheet
This famous old poem is by Hilaire Belloc, who was known for his "cautionary" poems for children. 
I would use repeated simple block chords to help set an ominous tone for this song:

The chords are A minor, D minor over A (Dm/A), and E over G# (E/G#).  The Dm inversion is easy, but the E inversion is very hard for some kids.  That's another good reason for the repeated chords; it will take some practice to make the chords feel natural in the hand.

Because this melody ranges far, there is just a bit of complicated fingering... not really too much.  Though the finger replacement 4 - 1 that happens 3 times LOOKS hard, kids get used to it quickly and actually like it.

Here is a much harder arrangement of the same song: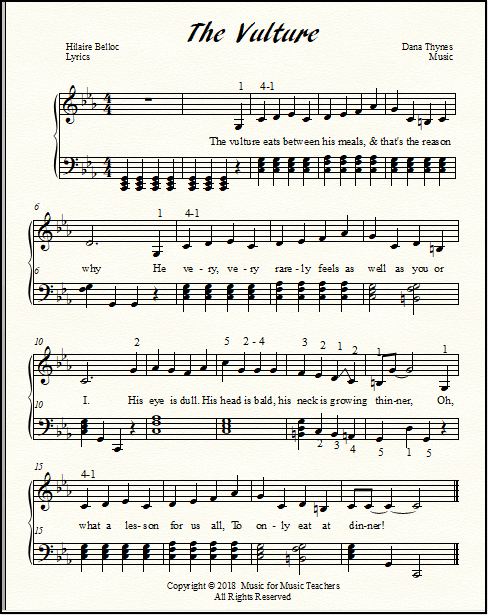 Download "The Vulture" in Cm for late elementary / early intermediate piano
The first week or two we treat this quirky song like a duet.  It's the chord practice that I am after; the melody and the lyrics are the "carrot" to that stick!

Sign up for "Take Note!" to see what's new every month.