Make Your Own Chord Charts 
for Guitar - use Excel
Make your own chord charts for guitar using a spreadsheet - see how one alert reader made his own!
Recently I got an email from a fellow named Bill Godwin, who makes his own chord charts for guitar using Excel software. I was intrigued and asked him to explain how he did it. 
Bill sent me a couple pages, and I decided to show all of you what he sent, especially as a few of the chords, the minor 7ths and major 7ths for example, are not chords I have made charts for myself. You can download these as PDFs, too: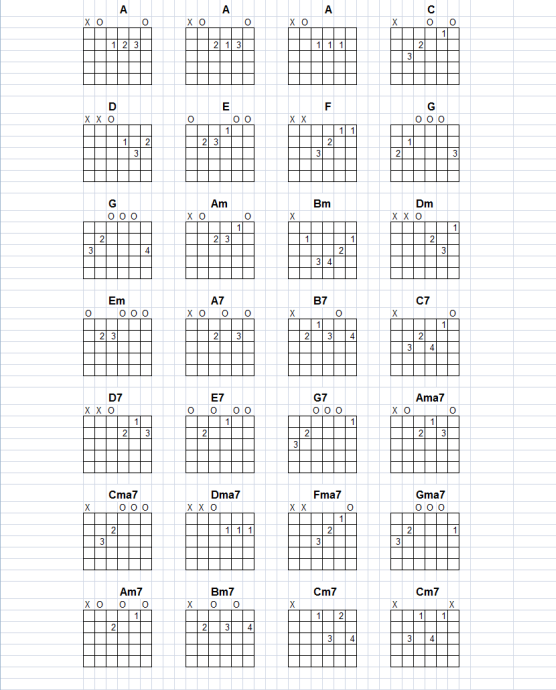 Download Make-your-own-chord-charts for Guitar chart 1 
Bill says, "It is fairly easy to make up chord diagrams in Excel! ...The cool thing about the Excel diagrams is that they are easy to make and easy to put the fingerings in there!"
Sign up for "Take Note!" to see what's new every month.
Comments
Do you have a story or a question about teaching guitar? Do you think it is a hard instrument for beginners, or easy? What have been your challenges?
Please note that all comments are moderated, and will not appear until I have approved them. Also, IF YOU ARE ASKING FOR MUSIC THAT IS NOT IN THE PUBLIC DOMAIN, YOUR REQUEST WILL BE IGNORED. That's pretty much any music written in the last 75 years...