Groundhog Day Piano Music for Beginners
Groundhog Day piano music for your young students, free download!  This simple little tune tells the story, in brief, of Groundhog's Day.  Two versions here - one for elementary, and one for early notereaders.

This is a very simple, even predictable tune.  I wanted it to be SHORT, yet tell the story, and use repeating patterns.  
Something different I've done with this song in both arrangements is make available a male or a female perspective in line 1 - the groundhog looking out the door is either a "he" or a "she."  Why?  Because I have three daughters, and I weary of the tacit assumption that all animals in stories are de facto male... it's nice to mix it up.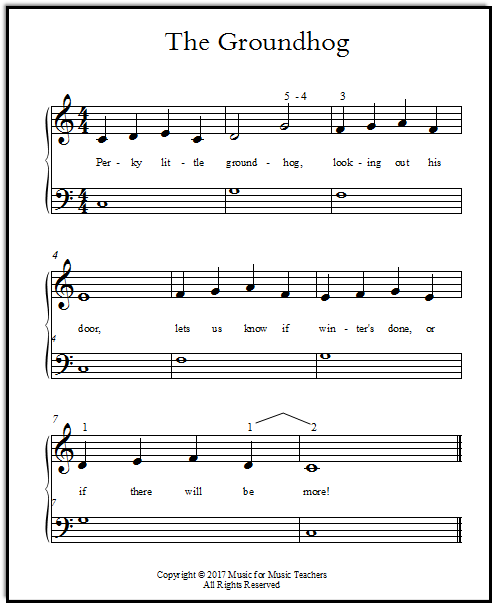 Download Groundhog Day piano music for boys

Download the same song, but with reference to a female groundhog!

Today, a student and I talked our way through the odd fingering in this piece before touching the piano keys.  She set finger 5 down on the piano lid, then silently scooted finger 4 into that position.  Just miming the action ahead of time made actual execution easy.

Here's the young reader version, with melody for shared hands: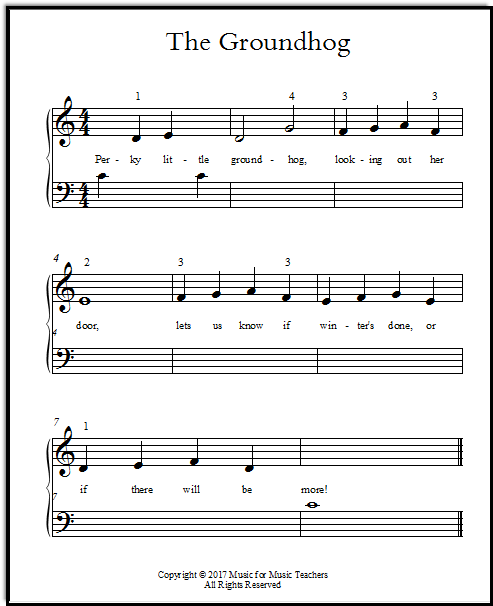 Download early reading version of The Groundhog for girls

Download the song with a male groundhog in the lyrics

I hope you have a student or two who will find this little song to be just what they need on Groundhog's Day!

---
A perfect read aloud storybook
for little boys or girls. 
The Adventures of Tonsta highlight the travels of a very young boy with a good heart, who goes about helping folk in trouble.  
With a red cap on his head and a sack of tools slung over his shoulder, Tonsta seems to meet people in distress wherever he goes.
Lots of trolls in this book.
---
---
Sign up for "Take Note!" to see what's new every month.
Search Music-for-Music-Teachers:
Comments: Do you have a story or a question about music teaching? Share it!
Please note that all comments are moderated, and will not appear until I have approved them. Also, IF YOU ARE ASKING FOR MUSIC THAT IS NOT IN THE PUBLIC DOMAIN, YOUR REQUEST WILL BE IGNORED. That's pretty much any music written in the last 75 years...