Folk Sheet Music
Hava Nagilah
Folk sheet music Hava Nagilah is a beautiful minor-sounding Hebrew song.
This free arrangement for early intermediate piano students is charged with energy, partly because of the fast left-hand split chords, but mainly because the song is inherently full of musical tension. 
Not actually in a minor key, but with an alluring tonality due to the lowered second plus the raised third, Hava Nagila has an irresistable tune and Hebrew words.
Listen to this audio from Youtube: This is SO EXCITING! Even without moving video... the men's voices are very stirring! 
Here are the two pages of Hava Nagila: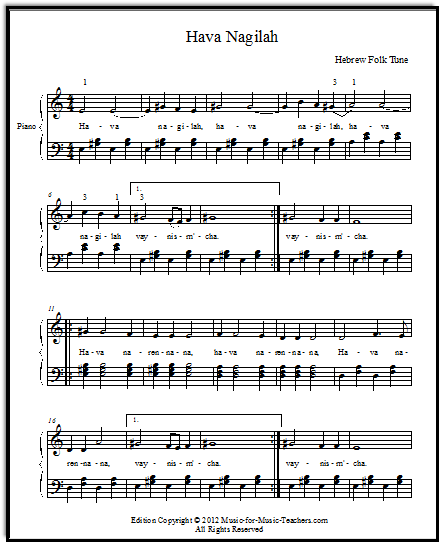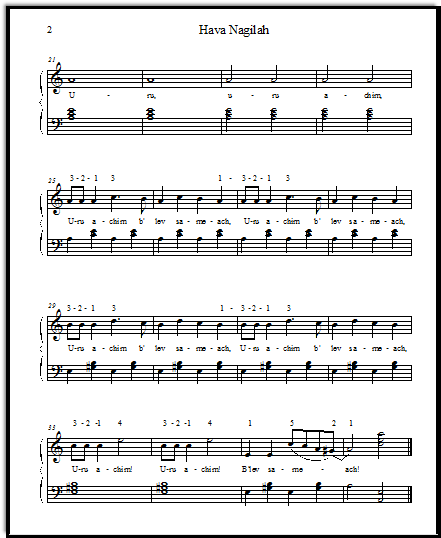 Please scroll down the page for the download links.
This folk sheet music arrangement is for early intermediate piano students, who are comfortable with:
coordinating fast-moving chord patterns in the left hand, 
a bit of syncopated rhythm in the right hand, 
crossing under and over, 
and picking up the hands and moving them to a new place on the piano.
These elements happen separately early on in piano method books, but not usually together until (in FJH's Piano Adventures series, at any rate) late level 2B or early 3A.
Therefore, gauge the enthusiasm of your student for this song carefully before pressing it on them! With all that said, this is likely to be a very popular piece, especially with young boys who like to play fast and loud.
The 3-2-1 finger substitution that begins in measure 25 is fun to do and a good introduction to this skill, which helps control the speed of the notes.
But ignore the fingering, if your student fights it. Attitude is everything - make it a challenge, not a chore!
Here is a very polished rendition of Hava Nagilah, quite traditional: 
The translation of Hava Nagila:
Hava nagila ve-nismecḥa = Let us rejoice and be happy
Hava neranenah ve-nismecḥa = Let us sing and be happy
Uru, uru acḥim! = Awake, awake, brothers!
Uru acḥim be-lev sameacḥ = Awake brothers with a happy heart
Be-lev sameacḥ = With a happy heart
For information on who wrote Hava Nagilah as it is known in its present form, check out this page at RadioHazak.com.
And one more video, a live performance of showy orchestra players and violinist Andre Rieu: 
I know your students will enjoy this lively free piano sheet music! 

---
The link to the piano music:
Download folk sheet music Hava Nagila 


Interested in songs from the Bible for your students or church?  Check out my other website, SingTheBibleStory.com!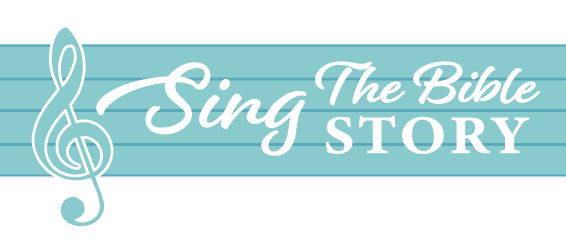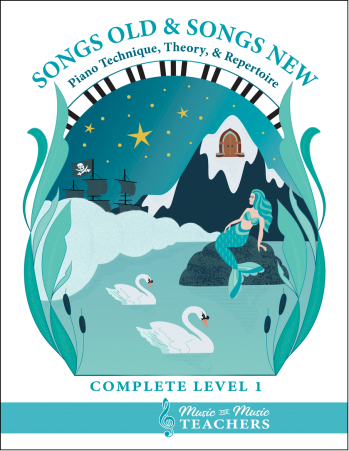 All the first-year material I give my beginner students. 
Piano keyboard sheets, scales, chords, note-reading exercises, and over 256 pages of music!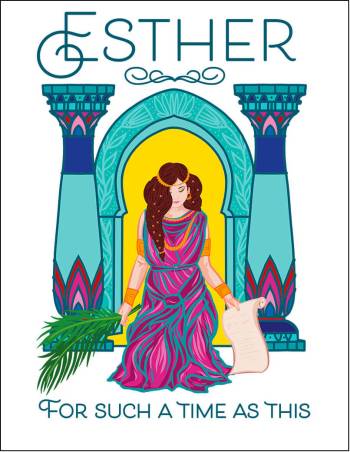 This beautiful song book for piano & voice "Esther, For Such a Time as This",  available as a digital download, tells the riveting story of the time when  Jews in ancient Persia faced a foe named Haman, and how a  brave young queen risked her life to save her people.
A good choice for a singing story-teller, an operatic group, a short theater production, or a class of children!
This book is also available from Amazon as a paperback.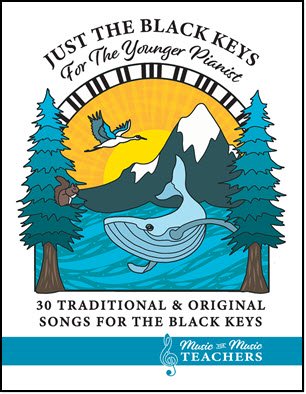 This book is available as a digital download  from this site.  Visit this page to see some free examples from the book.
It is also available from Amazon as a paperback!
This is the perfect easy start for little pianists.
And when they start reading white-key notes on the staff, this is a fun easy resource to say each week, "Choose a new black-key song at home this week and figure it out to show me next lesson!"  They will be spending more time at the piano.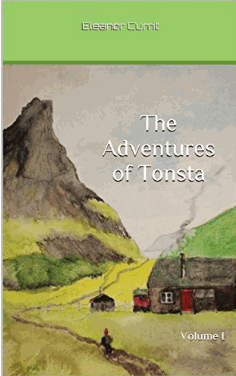 A perfect read aloud storybook
for little boys or girls. 
The Adventures of Tonsta highlight the travels of a very young boy with a good heart, who goes about helping folk in trouble.  
With a red cap on his head and a sack of tools slung over his shoulder, Tonsta seems to meet people in distress wherever he goes.
Lots of trolls in this book - including one who gives him a Christmas gift!
Sign up for "Take Note!" to see what's new every month.

About the Author


Hi, I'm Dana!  (Say that like "Anna".)  I'm the owner of Music-for-Music-Teachers.com, and a newer site, SingTheBibleStory.com.
Like some of you, I've been playing the piano since early childhood, and have added a few other instruments along the way, plus an interest in arranging and composing music.
You can find out more about me and the reason for this website at my About Me page.