Can-Can
Printable Piano Sheet Music
Can-Can, now in FOUR versions and TWO keys! 
Can-Can is instantly recognizable by most people -- even by your students who don't listen to classical music at home. Three of the versions of  this energetic piece by Offenbach are pretty easy to play.

All the right hand parts of the 3 easy versions are the same, but the left hands are different;
one uses whole-note chords, 

one employs half-note chords, and 

last, (and most fun) the left hand uses fast-moving split chords.
This video shows Can Can played as a duet - my arrangements here are only a part of the full piece:
One of the bonuses of this music (which is only a part of a much longer piece) is the descending C or G major scales -- perhaps your student's first real piano piece in which to use a whole scale!
This version with whole-notes in the left hand is an easy way to approach it.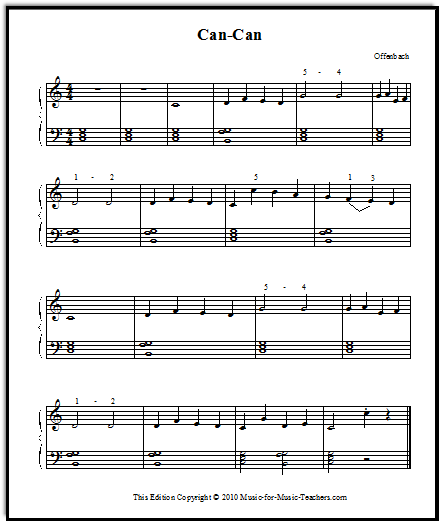 Please scroll down the page for the printable PDF links.
There are several important skills to practice in these arrangements:
finger replacement (finger 5 - 4, for example; we call it "SNEAKING"), 

scale crossing over and under, and 

I - V7 chord changes.  A challenging, but fun, way to practice the right hand is to set a goal of being able to play the right hand with EYES CLOSED by their next lesson!  Even the octave leap is possible, with practice!
Version 2 picks up a bit of energy with half-note chords in the left hand.  The difference in the texture of the piece is already palpable: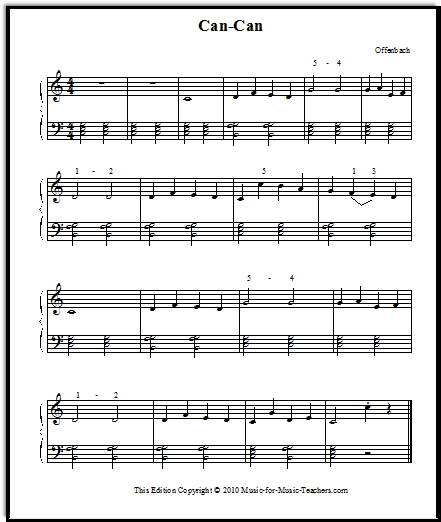 Here's the hardest version: not too hard at all, if they have mastered the chords and right-hand melody in version 1 or 2.  
Now Can-Can really has energy: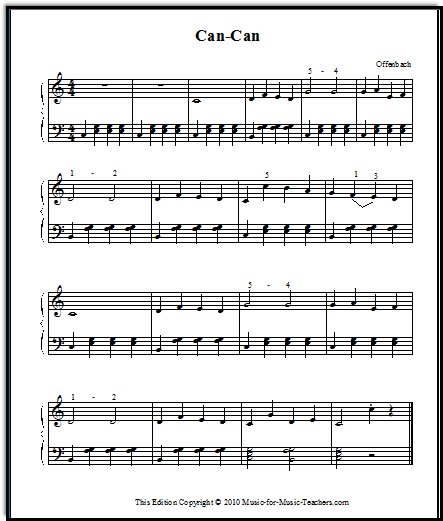 When this piece has become easy, challenge your student to transpose it up one whole step to the key of D.  Then E!  Then F!  Then - but you get the idea.

Now below is a new, longer version, QUITE A BIT HARDER on page 2.
The left hand uses an Alberti bass pattern that frequently doesn't show up in Method books until Level 3.  I
f your student really wants to play this longer version and just isn't able to handle the trickier left hand, I would just re-arrange it a little bit!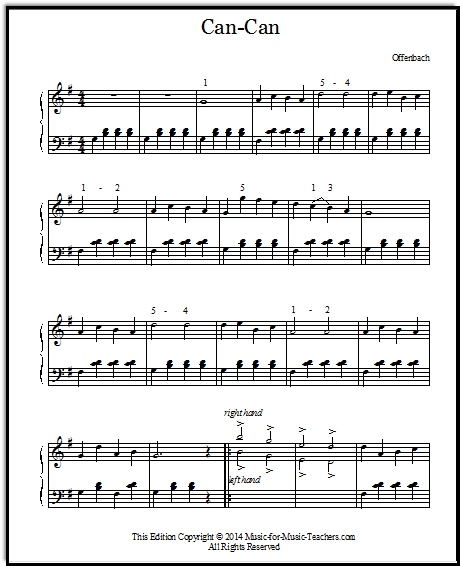 ---
This links for the slow-moving left hand chords arrangement:
Download Key of C printable sheet music for Can-Can with whole note chords in the left hand

Download whole-note version in the Key of G with whole note chords

The links for the arrangements with half notes in the left hand:
Download printable sheet music with left hand half-note chords key of C

Download half-note left hand version in key of G

The links to the arrangements with quarter notes in the left hand:
Download music by Offenbach with quarter notes, key of C

The links to the longest arrangement of Can-Can:
Download longer version of Can-Can in C

Download long version in key of G

---
Can-Can is a good piece for metronome races -- not to beat the metronome, but to see how fast the student can get and still keep an even tempo. Fun!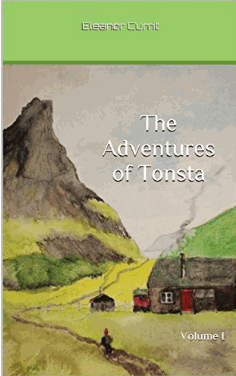 A perfect read aloud storybook
for little boys or girls. 
The Adventures of Tonsta highlight the travels of a very young boy with a good heart, who goes about helping folk in trouble.  
With a red cap on his head and a sack of tools slung over his shoulder, Tonsta seems to meet people in distress wherever he goes.
Lots of trolls in this book - including one who gives him a Christmas gift!
Sign up for "Take Note!" to see what's new every month.
Search Music-for-Music-Teachers:
Comments
Do you have a funny story about this music, or does it remind you of something you'd like to share with other readers? Do you have a question? I'd love to hear it!

Please note that all comments are moderated, and will not appear until I have approved them. Also, IF YOU ARE ASKING FOR MUSIC THAT IS NOT IN THE PUBLIC DOMAIN, YOUR REQUEST WILL BE IGNORED. That's pretty much any music written in the last 75 years...