Arab Dance, for Intermediate Piano
Arab Dance is hypnotic ballet music from Tchaikovsky's Nutcracker Suite.  Here is a lovely, convincing arrangement for your intermediate piano students, in 2 keys.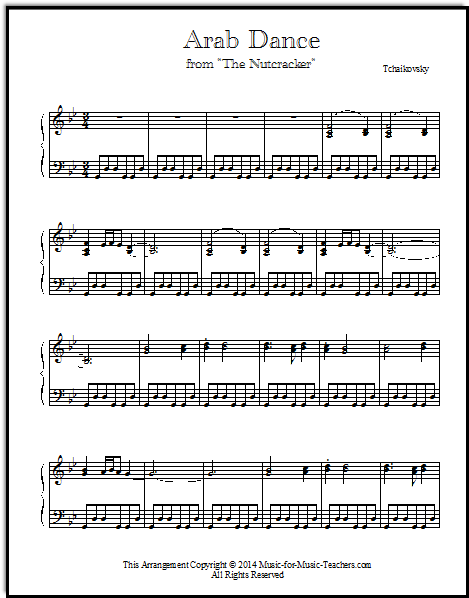 As I said on my recent page with the ELEMENTARY arrangement of Arab Dance, I have never been happy with any of the arrangements I've found for students of this particular piece. 

So I decided, with the biennial local production of The Nutcracker looming (in which many of my music students are involved), to see if I could come up with a decent arrangement that would capture some of the mystery of this mesmerizing piece by Tchaikovsky.  I think I've succeeded!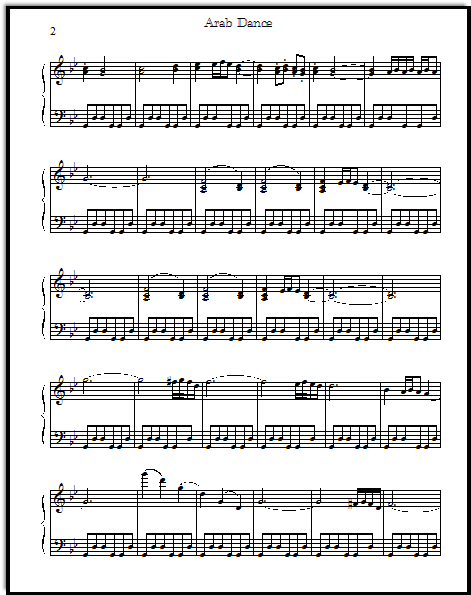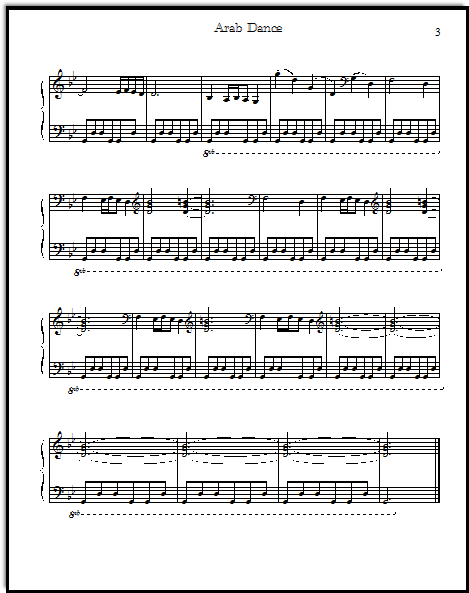 Download Arab Dance for intermediate piano in Gm

Download Nutcracker piece Arab Dance in key of Am

This early intermediate version, in the keys of Gm and in Am - no black notes! - employs the same bass pattern as the Schirmer arrangement but is quite a bit easier.
I've not put any fingering, pedaling, or dynamic markings in this intermediate version of Arab Dance.  I'm going to leave that up to you!  

At the bottom of page 2 is a figure that repeats, down an octave each time:  G to D, G to D, G to D (or A-E, A-E).  The first G of all is VERY HIGH - past the ordinary reading range of intermediate students (& advanced students, too, for the most part), but not past their ability to figure it out.  Have them count up line, space, line, space, etc., to locate that note.   Every opportunity they have to figure out an impossible-looking note ON THEIR OWN is a chance to empower them.  (Of course, a piano piece FILLED with tricky notes is not fun.  One tricky note is enough!)

At the end of the piece are lovely chord inversions that change from minor to major, twice.  See if your students can analyze them.
Here is another Nutcracker Arab Dance performance, or actually, what I suspect is a High School dress rehearsal in which the instructor is administering vigorous "encouragement"!  It's kind of fun to watch - and don't forget to check out my easier, elementary version of Arab Dance:
Sign up for "Take Note!" to see what's new every month.