O Mio Babbino Caro for Vocalists
Puccini's "O Mio Babbino Caro" is surely one of the loveliest opera arias of all time. It is also fairly easy to sing, except for the octave leaps, which give the song such excitement.
Take advantage of the free opera sheet music I offer here as lead sheets, and also the for-sale collections of four different piano accompaniments and four different keys, to suit young voices. (Go here if you are looking for the standard arrangement - harder but very beautiful!)
Now when I say "fairly easy to sing," I am of course not suggesting that it is easy to sing it like a professional opera singer - or that you would want your young singers to try to sing it that way!  I mean that even a young singer can "cotton on to" the melody.
Go to YouTube and check out the enormous offerings there of this beautiful song. This piece enjoys star status, even with non-classical singers. I guarantee your students will fall in love with it, especially if you show them the aria sung by a beautiful and glamorous opera singer.
My favorite video is sung by Anna Netrebko, who puts her whole self into the aria, looking like nothing so much as the most gorgeous Barbie Doll come-to-life. Even a non-operatic singer such as Hayley Westenra can demonstrate some of the beauties of this aria. 
Download free opera sheet music O Mio Babbino in Ab 

Download melody of O Mio Babbino in G 

Download melody of O Mio Babbino in F 

Download melody of O Mio Babbino in Eb 

Originally written in the key of Ab, I have it here in G, F, and Eb. The song is much more accessible for young girls in the lower keys!  
And safer - don't let them force their voices to sing in a mature-sounding way.
My simple melody-with-chord-symbols lead sheet is what I use for most singers, even at performances. The standard arrangement, let's not fool ourselves -- the standard arrangement is a handful, with its long harp-like broken chords and filled right hand octaves.
But the difficulty of the accompaniment is not my primary objection to using it with young singers. It can be heavy with some pianists, and on some pianos! You don't want accompanists all tangled up in a thicket of ponderous chords and big leaps, when they should have their eyes on the vocalist!

The voice is the thing here, not the piano, so stay out of the way! If you really want to play the regular accompaniment, many books of Italian favorites and opera music include it, or go here to download it from my website. For now, some of the arrangements below are still free. Here they are, from simplest to most elaborate: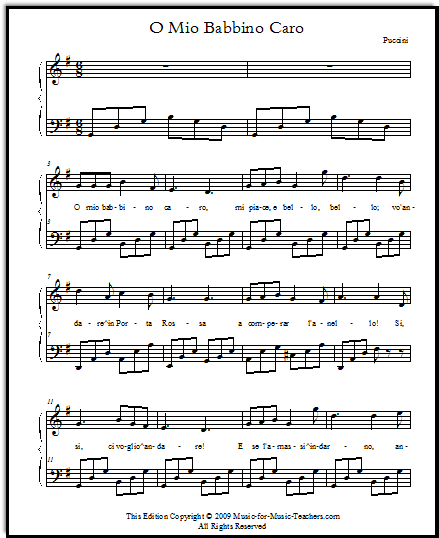 This easiest arrangement of O Mio Babbino for voice and piano is available as a set in the keys of Ab, G, F, and Eb (8 pages total) for $4.00 for the entire collection. Only four dollars! So much beauty, so much musical joy... only $4, from PayPal. (The pdf document is delivered by E-Junkie.com) 
Buy O Mio Babbino
Easy Arrangement Four Keys Collection:
The next version has some right hand chords. These are most beautiful if lightly rolled like a glissando, however, I did not mark them glissando.  This arrangement is also for sale for $4 USD, as a collection with the keys of Eb, F, G, and Ab (the original key) - eight pages of music.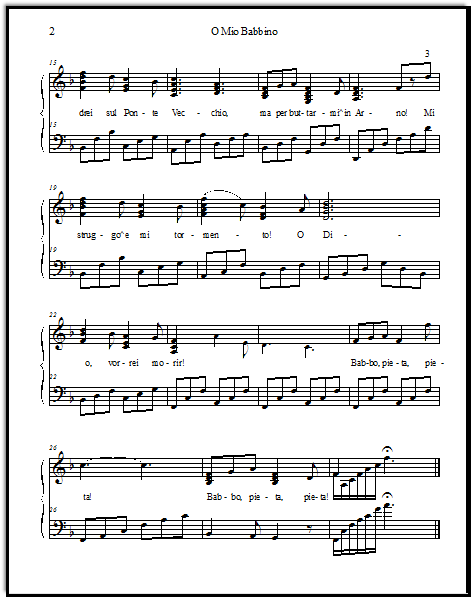 $4 USD, a collection of the keys of Eb, F, G, and Ab (the original key) - eight pages of music.



Buy O Mio Babbino 
Easy Left Hand & Harder Right Hand Four Keys Collection:

The third accompaniment version doubles the speed of the left hand chords. They can be a stretch for some hands, and careful, planned fingering is necessary to make it work, unless playing chords like these are second nature to you.   $4 USD, a collection of the keys of Eb, F, G, and Ab (the original key) - eight pages of music: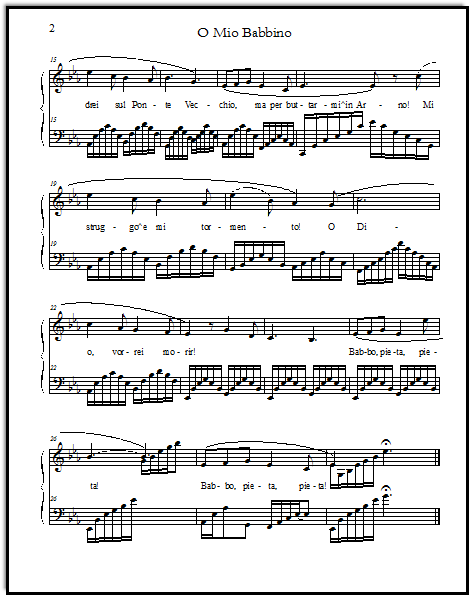 $4 USD, a collection of the keys of Eb, F, G, and Ab (the original key) - eight pages of music.
Buy O Mio Babbino 
Harder Left Hand & Easy Right Hand Four Keys Collection:

My 4th version of O Mio Babbino Caro, shown below, combines the full-sounding right hand with the faster-moving left hand. 
My most difficult arrangement , in the original key of Ab 

Free vocal sheet music in the Key of G, as pictured above 

And printable sheet music in the key of F 

O Mio Babbino Caro is a fun way to encounter Italian for the first time...I like to go over the meaning of each word so my students know what they're saying. Look up Gianni Schicchi if you don't know the story -- it's actually a comedy with a happy ending, in spite of poor Lauretta singing to her "dear Daddy" that she wants to die!
If you don't know how to pronounce Italian, for goodness' sake, get yourself some books or an Italian course!  Or if you are able, enroll in an "in-residence" course for singers (and others) such as "Lingua e Canto," and see Italy at the same time! 
Listen to Italians singing Italian. You need to be able to sing Italian well for the sake of your students. (In older times, vocal teachers wanted more than just good pronunciation; they recommended personally translating each word of a foreign language song.)
This aria is a good workout for phrasing and breathing. You will probably need to write all over the music to remind your student or yourself where to breathe. On the long note, "Di-o," work with them to swell or crescendo, to put expression in.
Go here to find the standard (difficult!) piano accompaniment for O mio babbino...
Comments
Do you have a funny story about this music, or does it remind you of something you'd like to share with other readers? Do you have a question? I'd love to hear it!

Please note that all comments are moderated, and will not appear until I have approved them. Also, IF YOU ARE ASKING FOR MUSIC THAT IS NOT IN THE PUBLIC DOMAIN, YOUR REQUEST WILL BE IGNORED. That's pretty much any music written in the last 75 years...
What Other Visitors Have Said
Click below to see contributions from other visitors to this page...

Some girls sing it easier in high key
I just want to remark that for some very light voices songs are easier sung in a high key. As a young girl I constantly had to fight the perception …
Stomach Pain When Singing
Rose: My question is one of my students is having stomach pains on her right side while she is singing. Please tell me why is that happening, because …