Fur Elise for Beginner Piano
Fur Elise is probably the most famous piano music Beethoven wrote. Even beginner piano players will be able to read and enjoy this free printable sheet music version! This melody is such well-loved, famous piano music, that young children feel a great sense of accomplishment in being given "real piano music" to play.
This version is just a portion of the main melody, but it is the most exciting part, the part everyone knows. I have simplified it to make it fit within the Middle C hand position, but kids will like to play it anyway.
Later on, they will feel ready for "the next level" of difficulty, in which they will play all the notes of the main melody (using both hands, still, to play just melody). After that, it will not be such a huge step to playing the entire melody of part I of Fur Elise with right hand alone, with the left hand playing the broken chords.
Printable piano music Fur Elise 

Below is a worksheet I sometimes use with Fur Elise. It is a "What's Missing?" kind of worksheet, but I don't send it home with a student for homework -- instead, we do a bit of it right at the lesson every week until it is done. This is a painless way to get some music theory in, and help me know if they are understanding things (or failing to understand anything in particular).
How is it painless? Because they do the worksheet side-by-side with the actual music. I helpfully point out the first spot where a note is missing ("Oh, look, we need a D sharp there."). They glance over at the music sheet, compare, and then draw it in. No stress. And some kids really enjoy worksheets!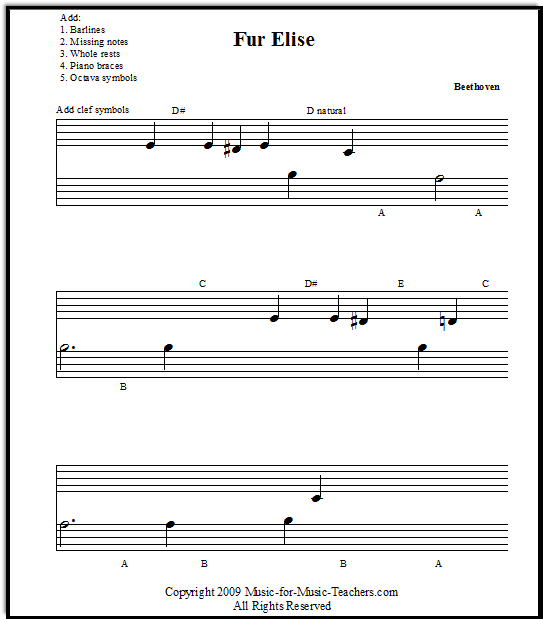 Companion worksheet

However, anything can lose its freshness and fun value if that is the only thing that is offered. A teacher needs many tools, and many games, for drilling notes and music-reading skills. Looking at a skill a different way will frequently reveal holes in students' understanding.
For example, I have come to realize over the years that the concept of Middle C can be a mystery for beginners. If not continually reinforced, they may think that Middle C for the left hand is an octave lower than Middle C for the right hand, instead of being the exact same note.
Thanks for stopping by!
Comments
Do you have a funny story about this music, or does it remind you of something you'd like to share with other readers? Do you have a question? We'd love to hear it!
What Other Visitors Have Said
Click below to see contributions from other visitors to this page...

Help... I Can't Read the Notes!
Agreed I cannot play unless the letters of the notes are there!!! Dana: Get with it and learn to read music! You want to be a master, right? Here's …
I don't know how to play unless there are letters.
I've heard of this song before and I've always wanted to play it. And since I'm not fully trained, I can't play it without letters. Will you please make …
Older Beginners Needing Letters on the Notes
If people require the letters above the notes find EZ PLAY music books . Makes learning that much easier and quicker for older people learning for the …
Fur Elise Part Two
I want part two! It would sound a whole lot better with it! Dana: Hi, Sarah. Part two is several levels of difficulty beyond the first part of …
Emmy
I need the lettering abcdefg to learn, how do I understand this? Dana: Emmy, Find a teacher! Or a friend who can help you. There are many …
Number Fingers?
I think you should number fingers on the keys that they should play. it's easier to read!! Dana: I frequently do put finger numbers in for my own …
What?
On the left hand chords couldn't you at least put the letters in to represent each note! Dana: No, that would be intrusive to a serious teacher of …