We Wish You a Merry Christmas
We Wish You a Merry Christmas easy printable Christmas piano music for kids, lead sheets in several keys, and vocal duets and trio arrangements, also in multiple keys, FREE!  Before Christmas gets here, I hope to also put up a couple of early intermediate/ late elementary piano arrangements.

First, a very pretty performance of this usually vigorous holiday music... the identification on the Youtube video said "Coral Polifónica Sagrada Familia (Sa-Fa)":
And here is the beginner Christmas piano music, arranged for first-year piano students: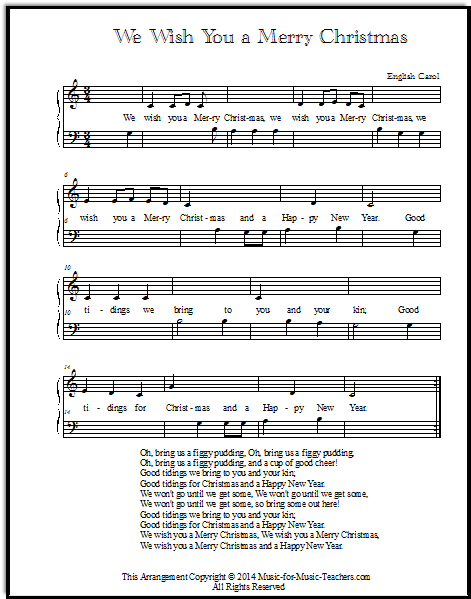 Download beginner Christmas piano music
I have not placed any chord symbols in the arrangement above, but if you wish to turn this into a duet with your student, and can't figure out the chords yourself, cast your eye down the page to the lead sheets, and print out the key of C.
This energetic holiday song lends itself very well to harmony; I'm having two brothers and their older sister sing this as a trio.  They are a family that does not celebrate Christmas, but I want them to learn to sing harmony together, and this piece is a good choice for that - or for a group of instrumentalists.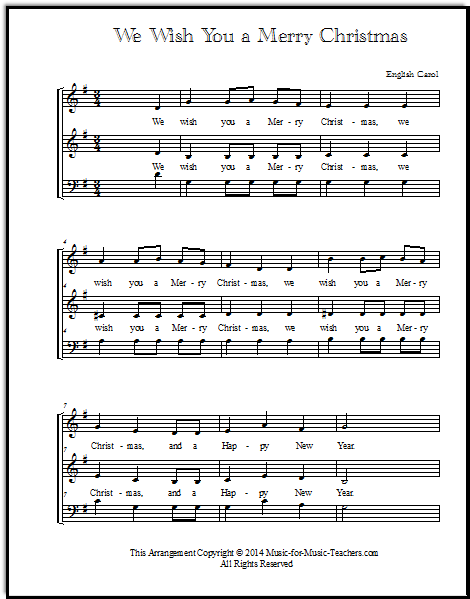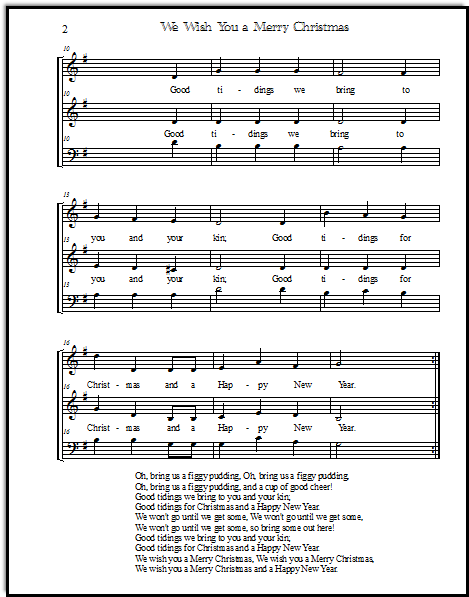 Download trio for singers We Wish You a Merry Christmas in A
Download trio in the key of Bb
Download Christmas song in key of D
Download holiday music in the key of G
The duet dispenses with the bass notes, and is almost the same - not quite - as the top 2 lines of the trio.  Some of the duets are set with bottom lines in the bass clef: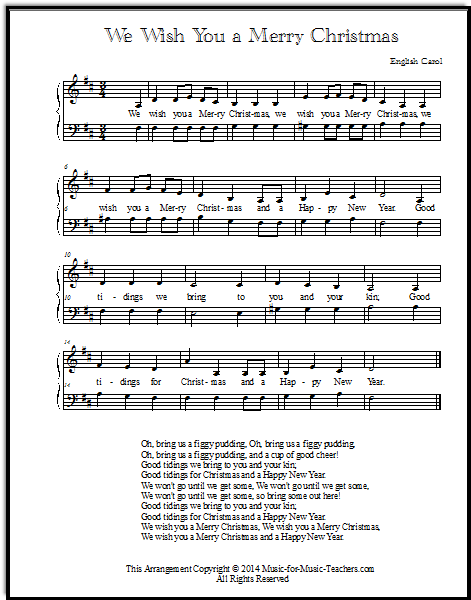 (See farther down the page for the duet links)
...and some of the duets are set entirely in treble staff.
There are two different key of C arrangements of the duets & trios, so take a look at the duet below and compare it with the key of D above, which goes down into bass clef: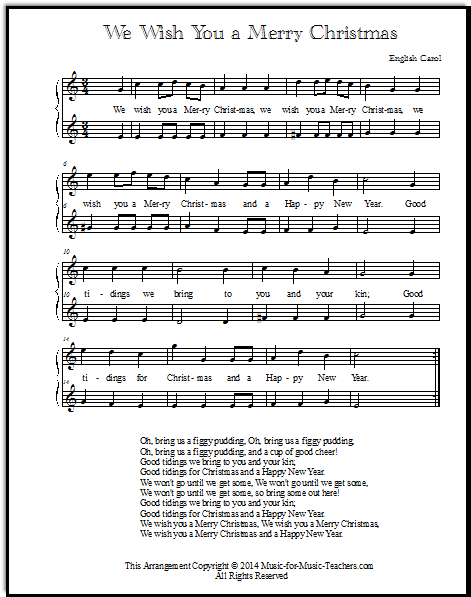 Download duet Christmas song in A
Download duet in the key of C, low version
Download duet Christmas song in C, higher (as shown above)
Download holiday song duet in Eb
Download duet holiday song in F
Two young violinists or other instrumentalists - even recorder players, will surely find a key that suits them!  I've been away from my (new) cello for a couple of months, so I'm wary of setting this Christmas song duet in bass clef for cello until I can try out the lines... but soon!
Now for the lead sheets with their chord symbols...  You will notice that I couldn't decide which chords I preferred in line two.  Both the minor chords and the major chords can sound satisfying, so I decided to include the optional chords!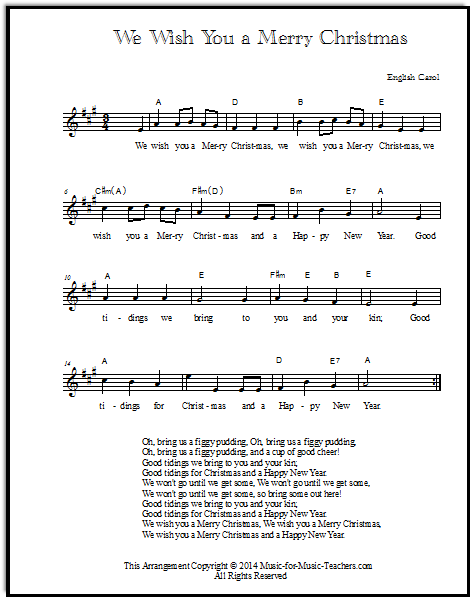 Download We Wish You a Merry Christmas in the key of A
Download free Christmas music Bb
Download Christmas lead sheet in C, low
Download Christmas lead sheet in C, higher
Download free Christmas song lead sheet in G
Hopefully I will be able to put up lead sheets for bass clef and also viola shortly... check back if you need those.