Old Joe Clark
Beginner Guitar Tabs
Old Joe Clark beginner guitar tabs is a great kids guitar piece. It doesn't move too fast, and the notes don't jump around. There are lots of open strings- hooray!
Get them familiar with the melody...
It does straddle three strings, however, so I probably wouldn't give it to a child who is a brand-new beginner, the first week or two. The melody is not familiar enough to motivate them to keep working if they get frustrated with the string-crossing...they'll just become baffled.  So make your first practice session heavy on the chords, while you play & sing the melody.
The video above is a nice (though complicated) version of Old Joe Clark -- I couldn't find any simple renditions! 
Download Old Joe Clark guitar tabs for beginners 


Get those beginners counting at once
Kids like the funny Old Joe Clark lyrics, and they are easy to sing!  Get them singing along with you, and when you get to the long notes, say the song words plus the counting, like this:
"Old Joe Clark, he had a house-2, eighteen stories high-2-3-4..."  They will start to feel counting before they can duplicate it verbally.
Great beginner chords
This song has easy chords, too; play it as a duet with them, or talk their friend, brother or sister into doing chords or melody on another guitar or on the piano while the other one plays guitar. Here are a couple of boys doing just that: 
Just guitar tabs
Your beginner guitar student will find a single staff of tablature much easier to follow at first than the first arrangement, above.   
Down strokes only
Like the beginning guitar method books, your student should be using down strokes only at first, until they have a good grip on their pick.  One  image I use to reinforce correct pick hold is "A round donut, not a squashed maple bar!"  That is a description of the way index finger and thumb look together; rounded, not flat and pinched.
Overlap thumb and index finger
But the "donut circle" must not hold the pick at the tips of the fingers, but firmly gripped between the overlapped final joints of thumb and index finger.  Well, I know some guitarists do, but not in my studio. This grip shape will need much reinforcing from you.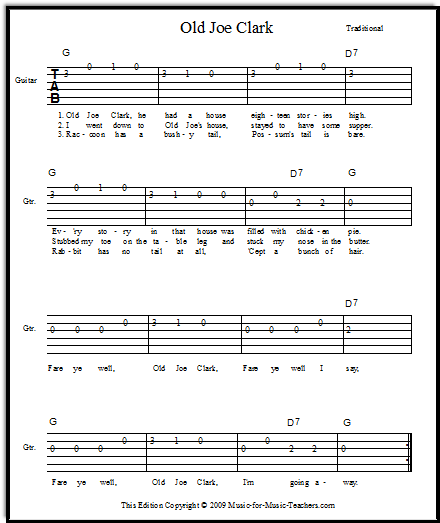 Download Old Joe Clark beginner guitar tabs