Irish Piano Sheet Music 
Keegan's Waltz
Irish piano sheet music to print for intermediate pianists - this very beautiful piece in a minor key will be loved by your students for its lilting melody and gentle broken chords.
We first heard this lovely song on a Irish harp CD some years ago, and one of my daughters came up with a piano arrangement. It has been a "must-have" piano piece for many of my students ever since. (And now you can SING IT, too, if you wish!  Check out the new vocal lyrics for Keegan's Waltz, contributed by a young musician named Matthew.)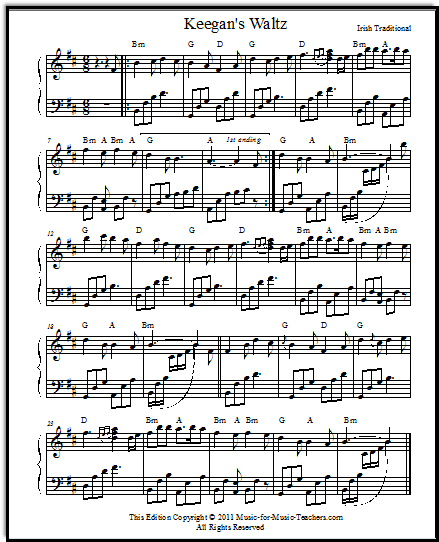 Download Irish piano sheet music to print "Keegan's Waltz" in Bm 

An opportunity for putting emotion into the music
One reason I love to have students select this Irish piano sheet music is because there is so much room for expressive dynamics in Keegan's Waltz. A student who really works at it can learn a lot about shaping melodies, and going with the rise and fall of a phrase.
And learning how to execute grace notes
When the main theme returns in measure 20, it returns with a difference, a bit like theme and variation, but really just with embellishments on the melody.  Easy grace notes are attached to just a couple of the already-familiar melody notes, so young pianists aren't intimidated but intrigued instead.  In fact, most of the students to whom I give this music try to sneak extra improvisations into Keegan's Waltz -- and I let them!
A light touch on the "echo" sound
There is a figure which appears three times in the song -- the right hand melody note "D" which softly rolls up to an "A," in which the notes of a D chord end up being held. Watch your students as they learn these notes - some students look at the tiny grace notes and guess instead of actually reading.  The correct notes are D, E, F#, and A.  The chord tones are held, while the E is released.
This motif is perhaps the most difficult part of the music -- it should sound lightly brushed, almost like a whisper, and not at all heavy. Though tricky to achieve, it is one of the things that makes this piano piece so appealing.  It should sound a bit like an echo, not like part of the melody.
I will try to add a video or sound file of this Irish piano sheet music -- there doesn't seem to be anything like it out there on Youtube currently. And I don't have a decent video cam.

I know you will enjoy this beautiful free Celtic sheet music! And check out the vocal version - you will enjoy it, if you like courtly poetry or Irish songs about love.
Comments: Do you have a story or a question about music teaching? Share it!
Please note that all comments are moderated, and will not appear until I have approved them. Also, IF YOU ARE ASKING FOR MUSIC THAT IS NOT IN THE PUBLIC DOMAIN, YOUR REQUEST WILL BE IGNORED. That's pretty much any music written in the last 75 years...