Fur Elise Sheet Music, Part I
Fur Elise sheet music, part 1, is the perfect classical music for students who've just mastered coordination of right hand melody against left hand broken chords.  The Beethoven Fur Elise sheet music (part 1) is also well-recognized and loved, sometimes even by kids who don't know any other classical music!
Of course, the student needs to be capable of reaching an octave, and they need to understand -- or be very familiar with -- basic chord structure. They also need to be able to read notes from below the bass staff to the top of the treble staff. But if they are comfortable with these things, then there are some features about Fur Elise -- the original version! -- that make it easy to play. (Remember, I'm talking about Part I only. What comes after Part I is way too hard for beginners.)
First, the hands take turns! The RH begins its sinuous melody, and on the last note of the phrase, the LH chimes in and takes over. Right hand, then left hand. Then right hand again.
I have changed the time signature from 3/8 to 3/4: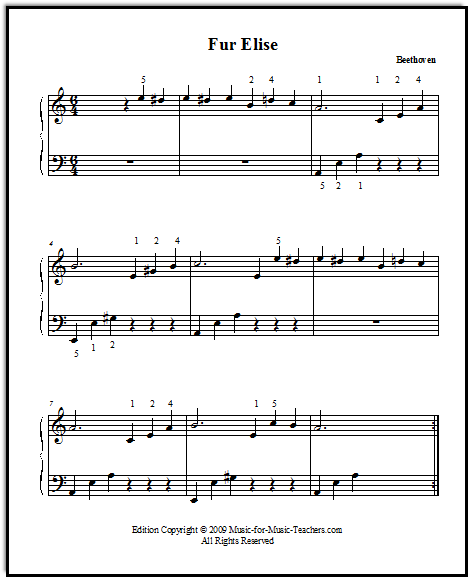 Second, the patterns of the LH are repeatable and predictable. The i and V chords of Am in an octave stretch, then an octave plus a third, back to an octave stretch. Repeat. On page 2, move briefly to the key of C I and V chords using the same octave stretch and octave plus a third, then back to the i and V chords of Am again. Easy.
Third, this is a very familiar piece of classical music, one your student has almost surely heard before, and they will likely be very excited to learn it.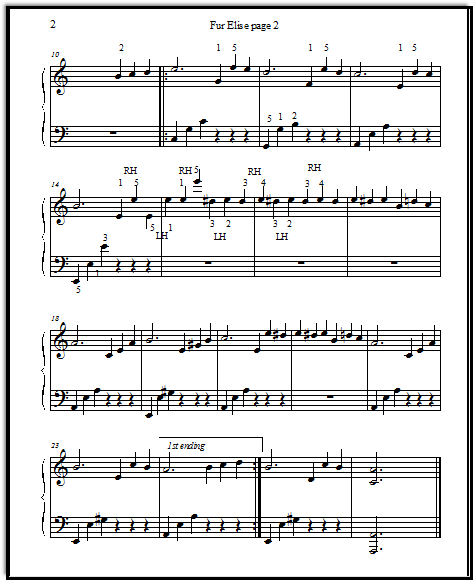 Download Fur Elise sheet music

Does the music look funny? Well, of course -- I changed the 3/8 timing to 3/4. 6/4, really. I'm not going to apologize. It sounds exactly right, because mathematically it IS right, and guess what? My younger students can count it! No guesswork, and no having to rely on a recording. Later on, when they're ready for Part 2 and beyond, they'll read the Beethoven Fur Elise sheet music the way he wrote it, with sixteenth notes.
If your students aren't ready for the big-hand stuff yet, they might be interested in the version below, which features the melody, shared between both hands. No chords. (This could be turned into a duet, with them on melody, and you playing the missing chords.)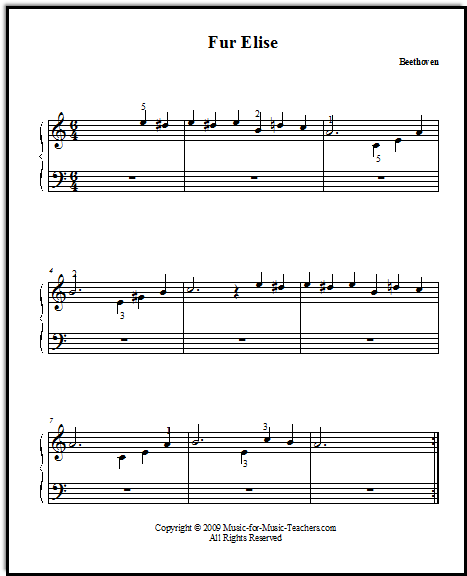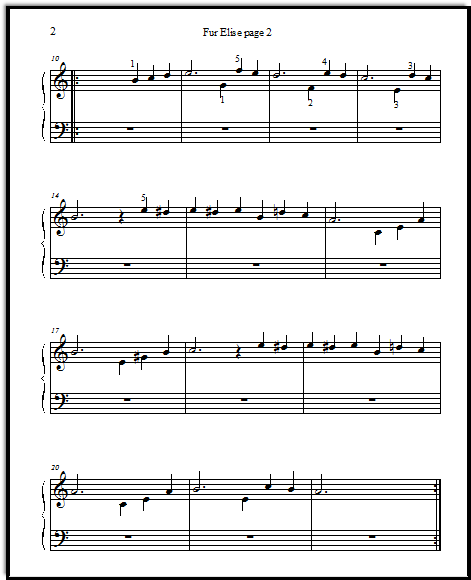 Download free classical sheet music Fur Elise easy melody 

Because the hands are in an unusual position, some kids will struggle making their left hand "obey." Shake them out of their routine! This is a good way to gradually transition from the Middle C Fur Elise sheet music version to the real thing, especially for kids who love Fur Elise! A lot of them do, and won't mind playing 3 different versions in 3 years.

Comments: Do you have a story or a question about music teaching? Share it!
Please note that all comments are moderated, and will not appear until I have approved them. Also, IF YOU ARE ASKING FOR MUSIC THAT IS NOT IN THE PUBLIC DOMAIN, YOUR REQUEST WILL BE IGNORED. That's pretty much any music written in the last 75 years...
What Other Visitors Have Said
Click below to see contributions from other visitors to this page...

Top Hit Songs Not rated yet
Can you please make top hit songs of piano easier for kids to play? Dana: I would love to, but can't do that unless the copyright holder grants …