Free Printable Music Sheets
Amazing Grace Solo or Duet
Free printable music sheets Amazing Grace - see the new solo arrangement for late elementary, as well as the primo and secondo piano duet arrangement.  Download Christian songs for your beginning and early intermediate students!
This melody needs no introduction... it is popular with church-goers and non-church-goers alike. Amazing Grace is one of the most beautiful and uplifting hymns in the western world.
A recent movie, "Amazing Grace," tells the almost unknown story of how one Englishman, William Wilberforce, forced Parliament and the whole British nation to really SEE the horror of the slave trade. Until Wilberforce, slavery had been common at all times, in all places, and in all cultures.

Here is Susan Boyle singing this hymn:
Here is the new piano solo arrangement of this most famous of Christian tunes: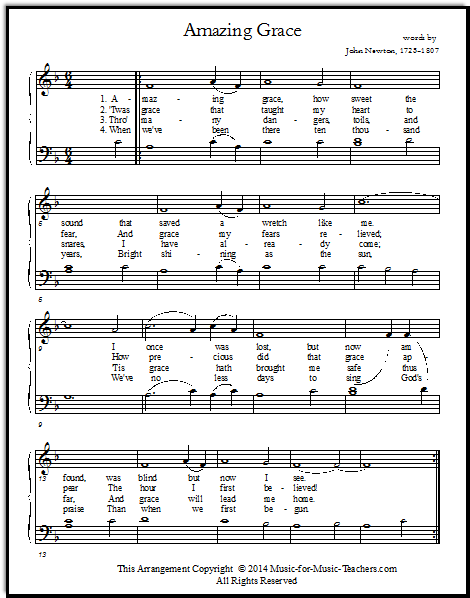 Download Christian worship music "Amazing Grace" for late elementary piano
Yes, the timing is doubled.  I'm predicting your students will have no problem at all with this time signature.  
The harmonies and melody contrive to help elementary players play the whole tune without having to lift their hands.
And here's the solo for beginners, or piano primo if you make a duet out of this piece. Again, I have doubled the timing for young students so they don't have to count eighth notes:

Download free printable music sheets Amazing Grace solo or piano primo
Look down the page for a piano secondo to play with the melody above...
This secondo uses single bass notes in the left hand and broken chords and chord inversions in the right hand. 
For the most part, the hands "take turns," rendering this secondo duet part easier to play than it looks. (Yes, it is written in 3/4 time, and the primo is written in 6/4 time, but this hasn't been a problem for my students... a kid who is advanced enough to play this part is reading 8th notes, while the beginner on the Primo won't be counting them for some time...) 
As is the case with most Middle C position songs, have the top part go up an octave higher to accomodate the Secondo.
Download Amazing Grace secondo for piano

The only tricky spot in the secondo comes in the last two measures, where students (with your help) will have to devise a fingering that will work for them.
I have intentionally not put fingering in, because students with smaller hands might prefer to cross over, while those with larger hands will probably want to replace fingers and stretch down to the "e" on beat 1 of the last measure.
The words "how sweet the sound that saved a wretch like me," can touch all hearts in times of despair or in times of gratefulness. It tells the message of God's grace freely extended to all.
The man who penned the words, John Newton, had been an Atlantic Sea slave trader, and knew that he was indeed the worst of wretches!
Bagpipes... perhaps the most inspiring way to hear Amazing Grace:
Enjoy these Christian songs free download!
Comments
Music has such power to move the heart... do you have a story or a question about this music?