Duet Music
The British Grenadiers
Duet music "The British Grenadiers" for piano, FREE!  Your students will recognize this catchy fife-and-drum tune if they have ever watched a movie with British Redcoats in it anywhere.
This particular military tune is used A LOT in movies: Just a few that I have seen myself in which this duet music is featured are Horatio Hornblower, Pirates of the Caribbean: The Curse of the Black Pearl, The Italian Job, The Patriot, Pride & Prejudice 2005,  Diamonds Are Forever, and Patton.
The following video series has several versions of The British Grenadiers.  The second one, which has singers, uses the melody that I included in my duet arrangement:
Here is the duet music: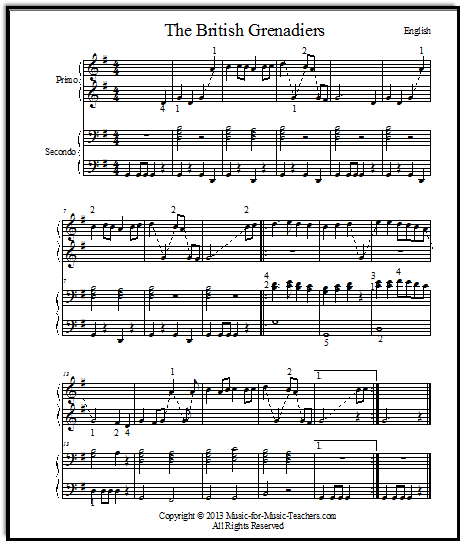 Download free piano duet sheet music The British Grenadiers 


Like Garry Owen, which I put up recently, the arrangement of this duet music for The British Grenadiers is like a choral piece, or a band director's score!  I wrote it this way so I could hear it re-played on my computer (and check accuracy).  It is a new experience for my students, but great practice reading scores.  
In the Primo, the student's thumbs do NOT go together, but are side-by-side.  There are a couple of tricky spots to read, where the eighth notes are flagged instead of beamed together, but this is an opportunity for you to explain to your students (as I have done) that flagged eighths and beamed eighths are just the same!  And the limitations of computers (or, perhaps, HUMANS) are such that I couldn't figure out how to make my computer program beam together the eighth notes in the two different staffs.
The Secondo has some tricky spots but should not be too hard, if your student has ever done chord inversions.  The "drumming" rhythm that keeps popping up in the duet music sounds like a flourish, and is fun!
Comments
Do you have a funny story about this music, or does it remind you of something you'd like to share with other readers? Do you have a question? I'd love to hear it!

Please note that all comments are moderated, and will not appear until I have approved them. Also, IF YOU ARE ASKING FOR MUSIC THAT IS NOT IN THE PUBLIC DOMAIN, YOUR REQUEST WILL BE IGNORED. That's pretty much any music written in the last 75 years...