Free Christmas Songs
Angels We Have Heard on High
Free Christmas songs for piano, voice, and other instruments. Lead sheets in six keys, and three levels of piano arrangements, with all the Christmas carol lyrics!
On this page is an easy Middle C piano version for first-year students, and two early intermediate arrangements of this free Christmas sheetmusic using left hand solid chords and broken chords.
When I was a young girl, I always got excited when this song came around, because I loved trying to sing harmony to the "Gloria" melody in the chorus.
Here is a nice instrumental and choral version of Angels We Have Heard on High:
The lead sheet version of Angels We Have Heard on High features chord symbols so guitarists or pianists can play along -- or so your fiddle/violin players can get some practice with chord backup! (I start my beginning fiddlers with single-string harmony backup, then gradually progress to 2-string long-bowing & chunking - of course, chunking doesn't suit these free Christmas songs!.) Here are the lead sheets for Angels We Have Heard:
Download free Christmas lead sheet in the key of A -- perfect for violin!

Download lead sheet in the key of C

Download lead sheet in the key of D

Download lead sheet in the key of Eb

Download lead sheet in the key of F

Download lead sheet in the key of G, also a very nice key for this song for violin players

Now here is a simple arrangement in Middle C position, also with all the Christmas song lyrics. It is true that I have used eighth notes, which may be new to some of your students who wish to play this song, but I have found that saying "Tah, tee-tee-tee-tee" etc. works very well for an approximation of the rhythm. Quarter notes = "Tah," dotted quarters are "Tah-ah", half-notes are "Tah-two", and the eighth notes are all "tee." The whole notes are easy; they are "Tah-two-three-four." Students catch on to this way of counting very quickly.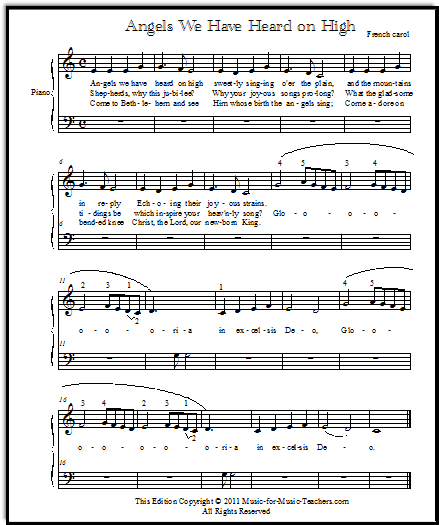 Download easy Middle C version of Angels We Have Heard on High

Probably the only tricky part for a young player is when the hand must change position -- point that out so it is no surprise -- or say, "Can you find the spot where the right hand must lift and move?"  I may ask them to write the word "LIFT" in that place.  This is much more fun than just being TOLD about the tricky spot.  Then we would practice the lift, several times.  Along the same lines, I sometimes like to say (after a note-reading game or a minute of drawing notes) "There is an 'A' hiding in this line... can you find it?"
Now here are two versions of the free Christmas carol for piano students beyond elementary piano. The first half of each arrangement is the same; the differences are in the chorus.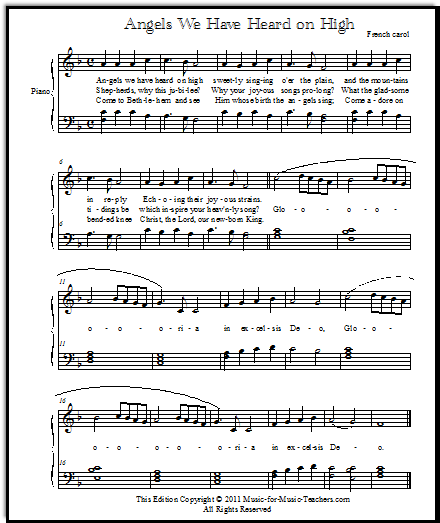 Download early intermediate arrangement of Angels We Have Heard on High
This falls into the hand very easily.  And so does the version below, once students can play "broken chord stretch" (see the page "Mary Had a Little Lamb" if you're unsure what I mean).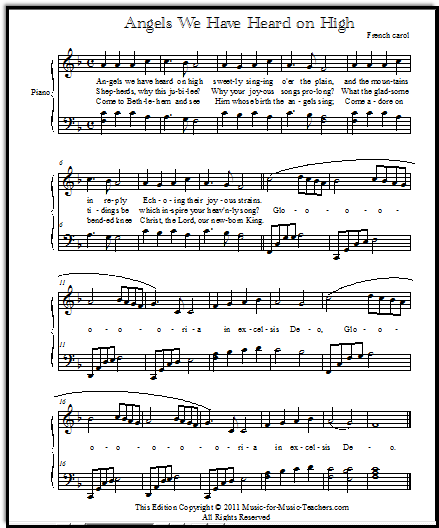 Download Angels We Have Heard on High with broken chords


Here is a harpist playing a nice arrangement of this Christmas song:
And a pretty version played on organ:
Comments
Do you have a funny story about this music, or does it remind you of something you'd like to share with other readers? Do you have a question? We'd love to hear it!