What's New at
Music-for-Music-Teachers?
Dear Fellow Music Teachers and Music-lovers of the world,
I've been working up a number of new (to my students) duet arrangements for a DUET RECITAL we're going to have (I decided that this would be FUN and DIFFERENT), and so a few of those will show up in this newsletter!
We've always done duets at recitals, whether piano, vocal, or guitar and fiddle, but I want to focus on STUDENT-WITH-STUDENT duets, which will take more preparation. I didn't want anyone to fall through the cracks, either, so some of the duets are very simple.
Along the way, I encountered a very fun set of piano TRIO books.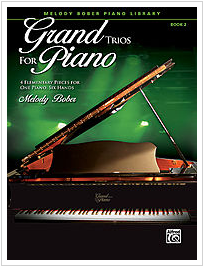 I have so far only received Books 1 and 4, and the songs are very fun and nicely written, and giggle-producing even for big kids sitting behind-to-behind on one piano bench. Still waiting for books 2, 3, and 5.
Okay! So...
For your intermediate piano students, a duet arrangement from Schubert's "Valses Nobles." This elegant little waltz is made up almost entirely of chord inversions, solid and broken. It's very cute, and my students like the sound of it, but I've had to "bully" some of them into persevering with the chord inversions and reading them carefully. So many of them want to finger the chords just "any-old-how"! Check it out at Valse Noble.
A mother wrote about her 5-year-old son who has severe language difficulties (he is on the autism spectrum), asking for ideas, but she had some very good ideas herself for teaching him to find the correct notes, with which she had been helping him learn melodies he was already familiar with. See her letter and my reply at Teaching my son with ASD and significantly delayed understanding.
The British Grenadiers is one of the duets I mentioned earlier; the Primo is for elementary players, and the Secondo is for students who can play chord inversions. It's a cute piece, and you may recognize it from the movies...
Garry Owen is an adorable fife-and-drum type of piece that is fun to play, and pretty easy. The Secondo is mostly pounding chords that go "ONE two THREE,ONE two THREE,ONE two.." etc.
Another parent writes that it has been difficult to find a teacher for his daughter, who is slightly autistic. I discuss strategies for locating teachers, or at least people who can put parents in touch with teachers.
I put up lead sheets, a Middle C arrangement, and a piano arrangement for Il est ne, a French Christmas carol. You will probably recognize it...
Also, in the Christmas music category:
Another French carol, Sing We Noel,
A printable sheet of the lyrics for Holly and Ivy,
A simple arrangement of Christ was Born on Christmas Day,
Three versions of the French carol Pat-a-Pan (Willie Take Your Little Drum),
and last of all, a vocal duet version of O Holy Night, which is itself a fairly new addition to my website.
To see other pages that have been added to the site, go to The Music Notes Blog.