Free Online Christmas Music
Christ Was Born On Christmas Day
Free online Christmas music for piano and singing students, Christ Was Born On Christmas Day, now with an easy Middle C position version as well as the late elementary arrangement previously available here. The Middle C arrangement would make a fine duet (look far down the page for that), while the late elementary solo version makes use of left hand chords in basic root and inverted positions, to make comprehension and playing easy... and it's still pretty!
This video shows the Blacksburg High School Madrigals choir, dressed in medieval or Renaissance garb: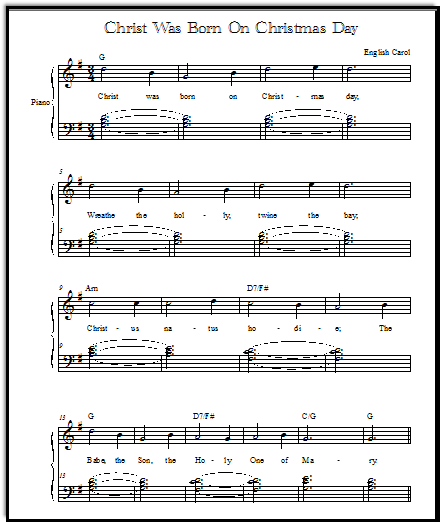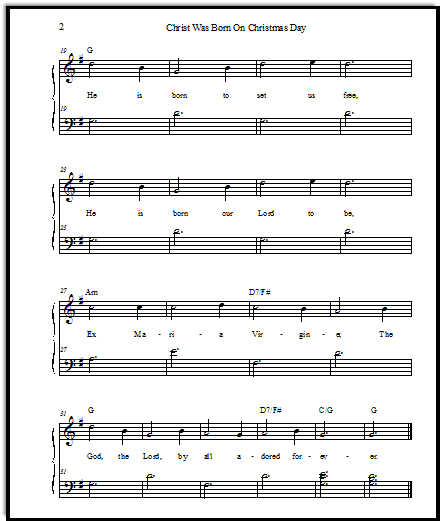 Download free online Christmas music Christ Was Born On Christmas Day
Is there a good approach to practicing this free online Christmas music?
This song is very easy on the piano hands separate; coordinating the two hands on page 2 is a little harder. I suggest reviewing the G cadence chords -- check out my Key of G scales and chords page if you are unfamiliar with what I mean.

You and your student will have to figure out what kind of fingering they will use in the right hand; I think there are probably only two possibilities: 5-3-1-2-4-5-4, or 4-2-1-2-4-5-4.
Neither fingering will feel natural to an elementary-level student, but this is the only tricky spot in the right hand. If they are familiar with chord shapes, then this should not be too big of an obstacle.
Now here is the easy Middle C version. If you want to make a duet out of it, have your student play it up an octave or two, and have their duet partner play a simple chord arrangement (look at the arrangement above to see what chords are usually employed).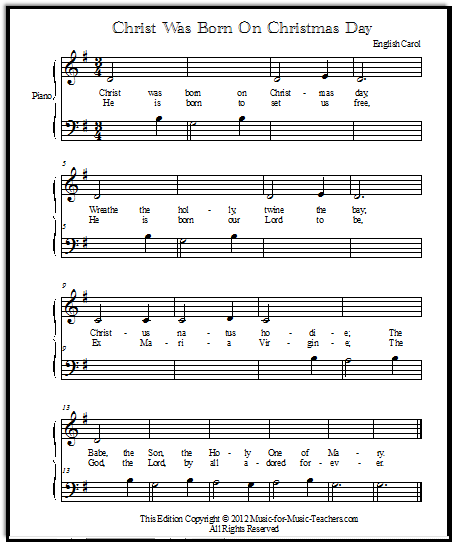 Download beginner version of free Christmas sheet music "Christ Was Born on Christmas Day" 

I haven't put any fingering in... instead of saying, "That's finger 2!" for the first left hand note, make your beginner piano student figure out that the note is a B. (I sometimes call this the "Baby" note B, since it has to lay on the line like a baby.  Contrariwise, the treble note Middle D is the "Daddy" note, as its "head" supports the whole "ladder" or staff...)

After playing it through once, you might discuss what the fingering ought to be, then hand them the pencil and tell them to draw the first right hand finger number and first left hand finger number also.
Merry Christmas!
Sign up for "Take Note!" to see what's new every month.