What's New at
Music-for-Music-Teachers?
A FIND:
A really great violin duet book, a book of Irish fiddle tunes,. I couldn't stop playing them! I still can't!
And they are nicely written duets, with some rhythmic elements such as double stops in a number of the Violin II lines - not just the parallel 3rds and 6ths that typically make up a harmony (& necessitate a guitar to round out the piece) - some of these duets will sound full without an accompaniment. I've encountered "Crabs in the Skillet" before in a guitar flatpicking arrangement, and failed to be moved by it, but the one I have met in this fiddle book has me MESMERIZED! I even find myself humming the melody while playing the harmony. It's that good (in my opinion!).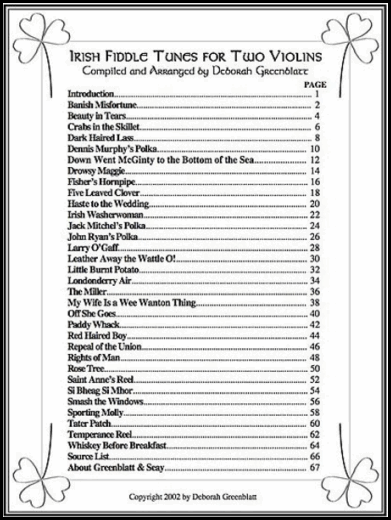 TEACHING - WHAT HAS WORKED WELL LATELY...
...AND WHAT HASN'T
WHAT WORKED!
"Transcribing" with my students - that is, musical dictation. What I love to hear is, "That's fun!", especially when it's said twice in the same lesson. Some of my students LOVE IT & ask to do it, and none of them complain!
I guess it is a lot like a game. A pleasant switch from note-reading, note-WRITING takes just about 5 minutes and chisels away at small inaccuracies in their understanding of the musical staff, of rhythm, of chords, of key signatures.
I pick a song (for the little ones) that everyone knows every week, and as time allows, pull out a piece of staff paper (no bar lines is best), or tablature for my guitar students, and I proceed to sing a song!


The songs I've sung to them thus far:
Older kids, adding bar lines, note values, and chords as well:
Parting Glass
Ae Fond Kiss
Loch Lomond

Little kids, just placing notes (whole note shapes), and maybe a chord or two if there's time:
Frere Jacques
Jingle Bells

And everyone, big and little, the last few weeks:
Away In a Manger
Up On the Housetop
We Wish You a Merry Christmas
Deck the Halls

WHAT DIDN'T WORK:
For little guys, failing to get away from the piano, or the guitar, or the violin long enough to get down on the floor and play with some alphabet cards or blocks and the cloth keyboard and staff. Or, a little walk to the whiteboard to draw staffs, notes, and clef signs. This always includes an erasing contest - my whiteboard usually has a line drawn right down the middle to separate my side from their side, and I always leave the previous student's work on the board so that there is something to erase. On your mark, get set, ERASE!
A little break for some theory in a fun way makes the lesson more rewarding... and if you play games with them, kids will sense that you enjoy their company. We all know this is a good thing for the teacher-student relationship!
NEW PAGES
You can always find the latest pages listed at "The Music Notes Blog", but this week there are NO new pages. I expect to get a new page up, O Come O Come Emmanuel, a very pretty early intermediate version, sometime this week. The polishing touches are being put on the arrangement tonight in preparation for a student who has requested it - her lesson is tomorrow! So hopefully I'll get that new page up this weekend.

There are some new pieces of music added to existing pages:
NEW MUSIC
Jolly Old Saint Nicholas - this is such a good song for beginning readers because of its familiarity and the many repeated, stepwise notes. I only placed a few lettered notes on this music.

Deck the Halls


O Christmas Tree


All of these beginner piano arrangements can be found on the page "Note-Naming Worksheets," as they all have some lettered notes in them.

O Christmas Tree doesn't have a page of its own yet - I actually wrote up most of the music last Christmas but didn't get it up in time. There are lead sheets for it, coming maybe this next week.

If you missed it last summer, check out "The Lake Pirates", modeled in a modest way after the Lake Town theme in Hobbit 3, The Battle of Five Armies. No, mine isn't as cool, of course, but just the NAME "Lake Pirates" is enough to pique the interest of little boys. Because there is a section with small chord inversions in the bass clef, I ended up making an "AlphaNotes" version for a little guy who rushes to INVENT ARRANGEMENTS of his songs if he can't read the notes quickly enough. If anyone asks for it, I'll post it (but otherwise I probably won't).

Gaelic Melody, an incredibly beautiful piece with solid chords changing to long broken chords on page 2, is another addition you may have missed last summer. This Celtic music would sound lovely with a violin. Go to my page to listen to a couple of videos and I am sure you will agree - this is a rare piece of music!
CHECK OUT WHAT'S BEEN HAPPENING AT MUSIC-FOR-MUSIC-TEACHERS
- there's bound to be something there for your students! (And it's almost always free...)
Dana