Free Online Christmas Music
Gabriel's Message
Updated & simplified!  Free online Christmas music for a capella singers, Gabriel's Message is a haunting and very beautiful old carol. Also called "The Angel Gabriel" and "The Basque Carol," it is believed that this carol was "found" by French composer Charles Bordes (1863-1909) while researching traditional Basque music. The English translation was written by Sabine Baring-Gould (1834-1924).
Here is the Choir of Winchester Cathedral singing a traditional arrangement: 
And here is my 2-part arrangement for unaccompanied singers: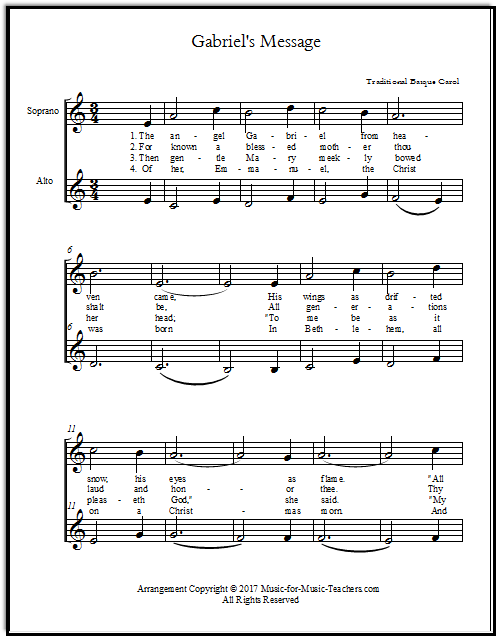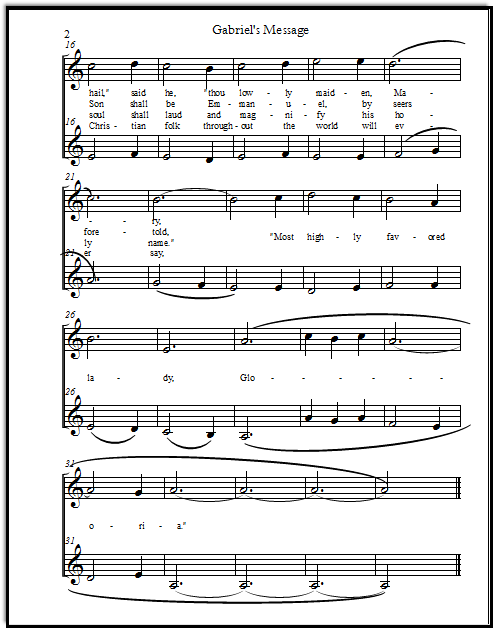 Download free online Christmas music Gabriel's Message 
My arrangement has enough harmonic dissonance in it to give it an other-worldly flavor, but the feeling is more medieval than contemporary. 
I've made a new edition, below, with letters in the notes for the weak pianists (or non-pianists), who must take the music home and learn it with little help: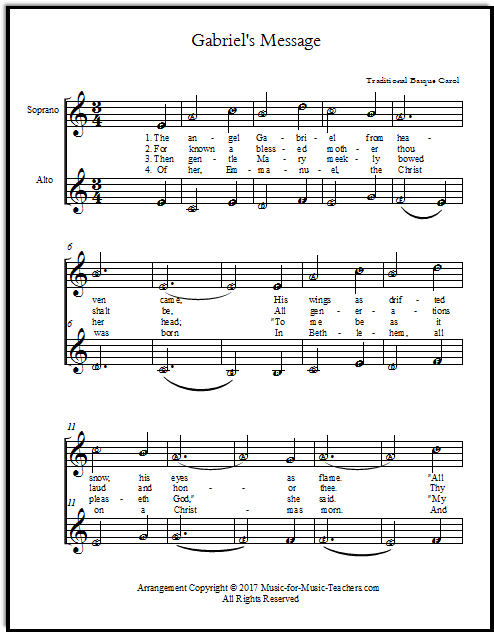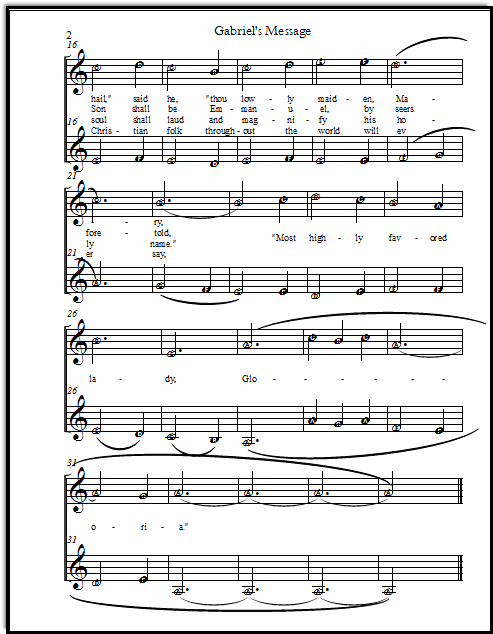 Download lettered-notes version of Gabriel's Message
How hard is this duet for young singers?
The soprano melody is lovely and easy; the alto part is tricky (for a beginning choir) and requires careful attention to the notes, as there is much stepwise motion back and forth, and slurs that look deceptively like ties. After singing it with the words, my choir sang it with the counting. ("3, 1-2, 3, 1-2, 3, 1-2" etc.) This is always a good way to "burn" the counting in.
Update:
I've changed my first arrangement a bit to make it easier.  The dissonant seconds and the tritone require confidence for small groups to sing, so I decided to clean the harmonies up a bit.  That's what we have here, December 2017.
I hope you and your students come to love this evocative carol as much as I do! 
Sign up for "Take Note!" to see what's new every month.