Free Online Christmas Music
Masters In This Hall
Free online Christmas music for voice and piano, Masters in This Hall is a Christmas carol from England. This energetic one-chord arrangement has an irresistable drive that makes it fun to play and sing.
One of my daughters made this arrangement as a teenager.  A piano/vocal solo and also a PDF of the Christmas song lyrics can be found below:
Here is an elegantly sung version of Masters in This Hall.  Very nicely executed, Veritas Concert Choir from Newberg, Oregon performs "Masters In This Hall":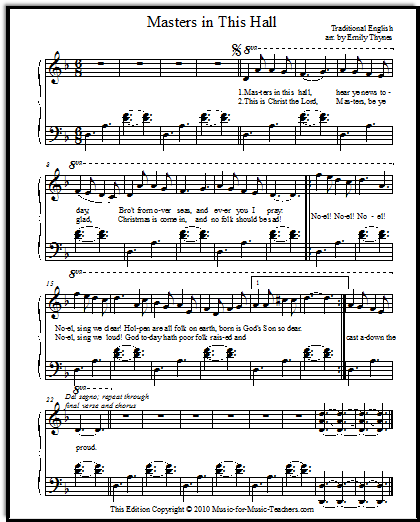 Download free online Christmas music Masters In This Hall 

With its unchanging chord, the music has something of the flavor of the Middle Ages. 
No, this particular Christmas arrangement does not have an easy treble part.  In fact it is a bit of a challenge, for beginners!
You will have to play through it carefully as a teacher and decide what fingering would work best for your student; I favor contracting the right hand and placing the 5 finger on the C at measure 16, because that works nicely for ME.  
However, your student may do better with picking up the hand and re-placing the finger, or (horrors) they may cross over several times.  Be prepared for that!  I always tell them that the best fingering for their piano music is usually the most efficient, with the minimum of changes.  

I have only put two of the verses onto the sheetmusic, but the entire Christmas carol lyrics are also downloadable as a PDF below: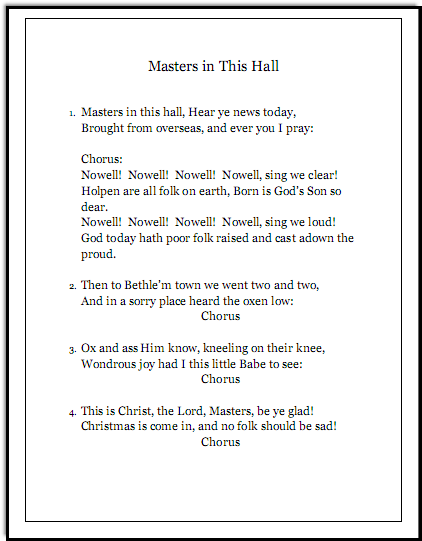 Download Christmas carol lyrics for Masters In This Hall 

Here is another very fun video, shot in what appears to be a music store; I love the combination of instruments.  A consummate performance!
I hope you and your students enjoy this Christmas music! 
Sign up for "Take Note!" to see what's new every month.