Spanish Ladies Guitar Tabs  
& Piano Music Downloads
Spanish Ladies, now with a bass-clef vocal duet!
This is a swashbuckling song of old England, a sea chantey.  Your students are sure to enjoy this FREE sheet music for voice, piano, and guitar! I have arranged this great song in several keys.
First, the new vocal duet: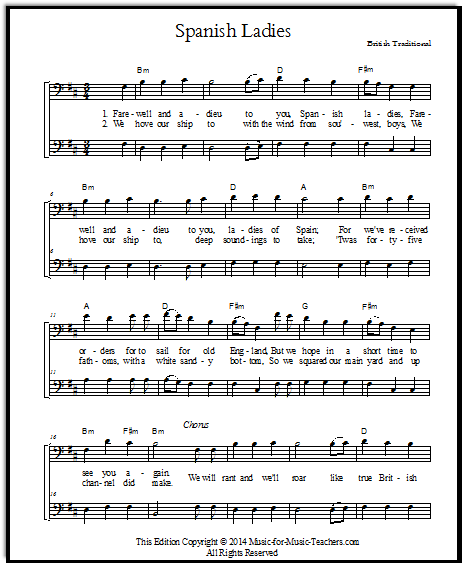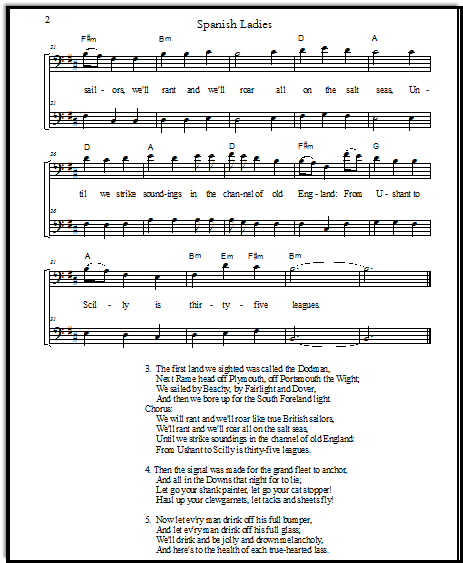 Download vocal duet for baritone and tenor (or low alto!)
Though the parts look as if they are for two men, I actually arranged this duet for a sister and brother. She is capable of singing quite low, so I set the melody as for a tenor (admittedly, rather a high tenor).  Her brother's voice is changing - that is, he is in the middle of puberty! - so I didn't want to send his voice too low.
The bottom part is almost exactly the same on pages 1 & 2, until you get to "From Ushant to Scilly, it's thirty-five leagues!", where I have got the bass line moving stepwise.  It may be a bit tricky...
If the parts seem either too high or too low for your singers to execute well, have them learn it anyway, and transpose it.
Now for the BEAUTIFUL piano arrangement!
While the piano part is probably too challenging for younger students, with an accompaniment similar to Johnny Has Gone for a Soldier, it is enjoyable to play, with a bit of delicacy called for at the beginning, giving way to big chords that you can push on if you want!
For players who aren't ready to play inversions, the melody is quite doable as single notes, with careful fingering, and simple block chords in the left hand can take the place of the arrangement offered here.  See the free lead sheet with guitar tabs at the bottom of  the page - it is in the key of A minor, almost as easy as this song gets. (Even easier- Check out the Middle C version for piano.)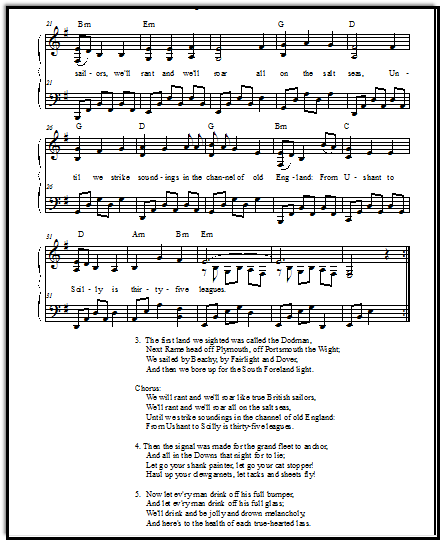 Download piano sheet music free printable Spanish Ladies in Am 

Download free printable sheet music Key of Gm 

Download free folk sheet music in Em 

Though I first heard this old sea shanty sung by the captain in "Jaws" (only a tiny part, and sung rather badly), I later came across it in Cecil Sharp's "One Hundred English Folksongs", a treasure trove of old folk songs. My piano arrangement is quite different from his, which has giant chords in the right hand and lots of octaves in the left.
A word about pronunciation: after careful listening to several video versions of Spanish Ladies, I decided that "From Ushant to Scilly" should be pronounced "from OOO-shunt to SEE-lee". I hope I'm right; I like the way it sounds and it's fun to sing. 
And here are the guitar tabs for this great song, in the key of Am. The key of Am is the easiest for guitar players, though it is a bit high for some singers.  Or too low!  So make this a capo song (I like it about fret 5) and both you and your student will have a fun song to practice the capo with.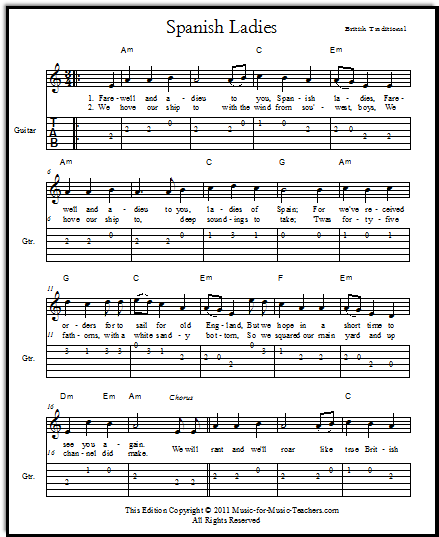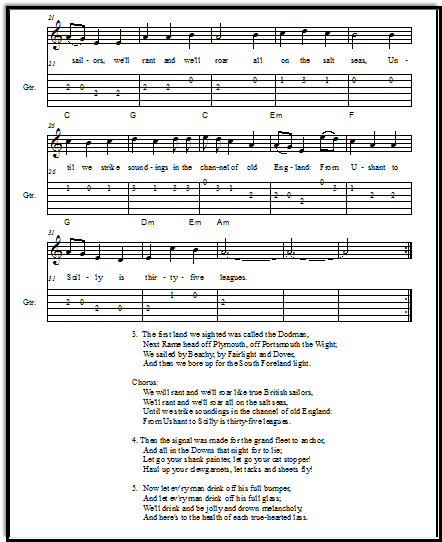 Download free guitar tabs for folk tune in Key of Am 

For younger students who want the fun of playing this song on the piano in a simple version (and even playing a duet version) check out the Middle C arrangements... one is in Cm, and one is in Dm.
Have fun! 
Comments
Do you have a funny story about this music, or does it remind you of something you'd like to share with other readers? Do you have a question? I'd love to hear it!

Please note that all comments are moderated, and will not appear until I have approved them. Also, IF YOU ARE ASKING FOR MUSIC THAT IS NOT IN THE PUBLIC DOMAIN, YOUR REQUEST WILL BE IGNORED. That's pretty much any music written in the last 75 years...