Loch Lomond Lyrics &
Sheet Music
Loch Lomond lyrics and sheet music, now with an early intermediate piano arrangement for your music students.  Two different sets of lyrics (the most well-known, and the original) and several keys to choose from, lead sheets and vocal plus piano accompaniment in 6 keys!
Listen to this very polished performance by Peter Hollens:

I have always loved this song, since I first played it on the piano as a little girl.  The lyrics were a mystery... what did it mean, the low road and the high road?  Most interpretations connect to the Jacobite uprising against England in 1745.  I THINK that is the setting for the story  Lorna Doone as well... (which has beautiful, evocative music).
Here is a new piano arrangement, which is actually very OLD... it is almost note-for-note the old John Schaum arrangement that I played in my childhood and can no longer find.  I loved it so much that I want my students to know it too: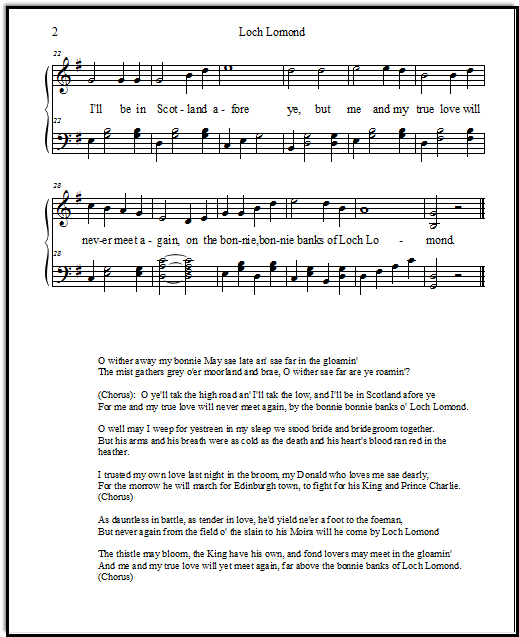 Download Loch Lomond for intermediate piano
Students who are not ready for the fast-moving chord inversions in part 2 may still be able to put page 1 hands together.   The "crushed" note, C#, helps give the bass part a "bagpipe"-like sound... at least that is how I have always heard it in my imagination!  And this is one of those songs that can carry you away to another time and place...
The arrangement below is especially for vocalists: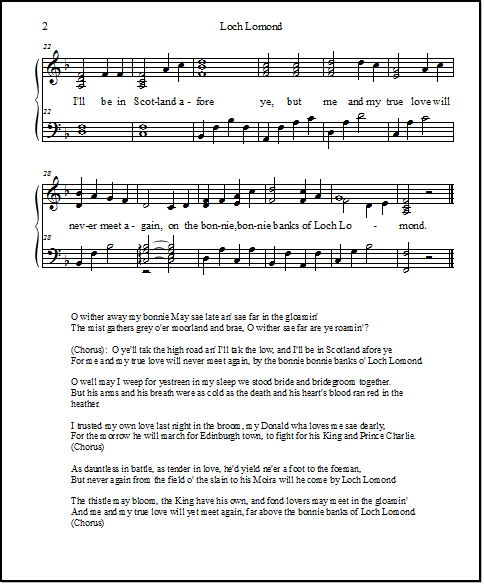 Download Loch Lomond for voice & piano in the key of C
Download Scottish song for voice & piano in the key of D
Download Loch Lomond in the key of Eb
Download Loch Lomond in F (shown above)
The LEAD SHEETS for this beautiful song: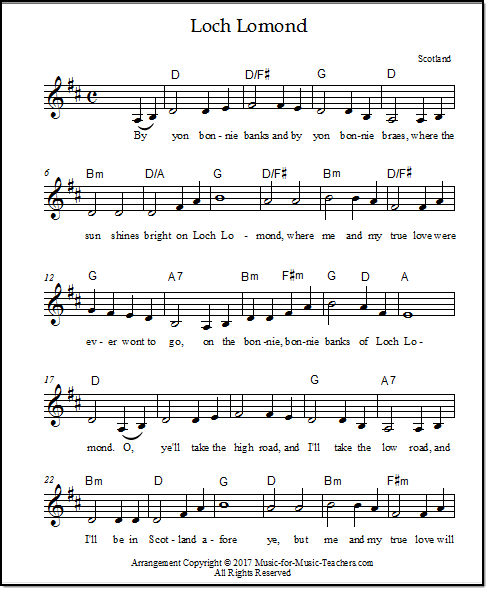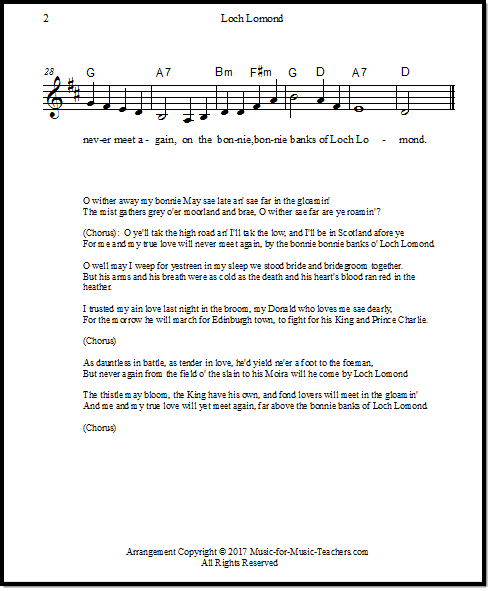 Download Loch Lomond lyrics and music in the key of C
Download lyrics and music in the key of D
Download music in the key of Eb
Download Loch Lomond in the key of F
Download Loch Lomond lyrics and sheet music in the key of G
For your beginning guitarists, here are guitar tabs in the keys of C & G: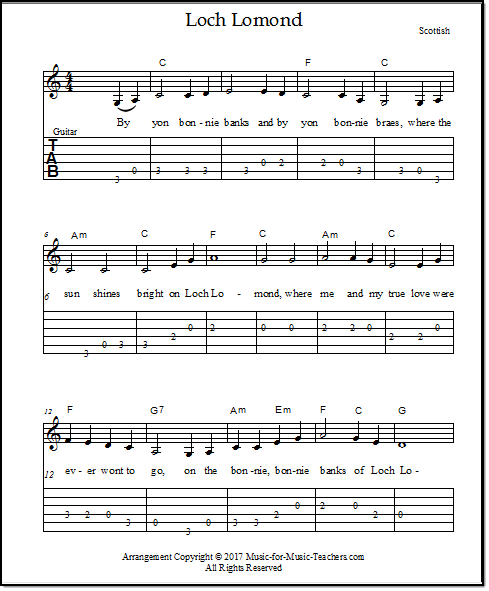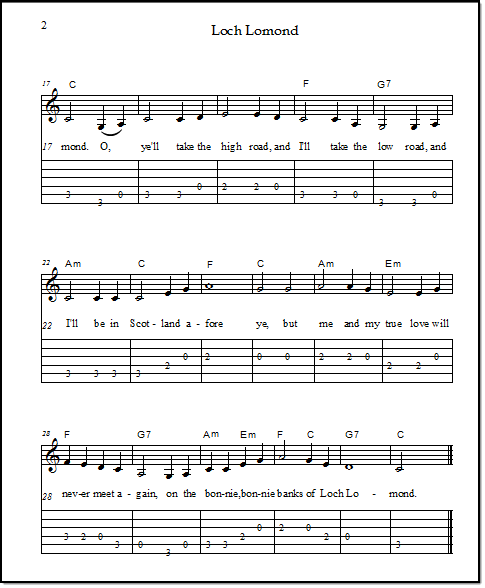 Download guitar tabs for Scottish song in the key of C
Download song with tabs in the key of G
And here is a super-easy arrangement in Middle C position for beginners:
Download easy piano arrangement for Loch Lomond
This video shows a rendition by The Corries using the oldest words, which I have included with my vocal sheets.  It is a beautiful solo performance, live, with the saddest words: