Kum Ba Yah Sheet Music
Kum Ba Yah is a familiar church & camp song - give this easy & pretty music to your students!  Several versions for piano, three keys for guitar, and lead sheets in six keys.

This is a very simple piano arrangement of Kum Ba Yah, with plain basic piano chords and inversions.  It's good practice for using these basic and necessary chords.  If your student can play the easy version of Lavender's Blue hands together, she can play this too: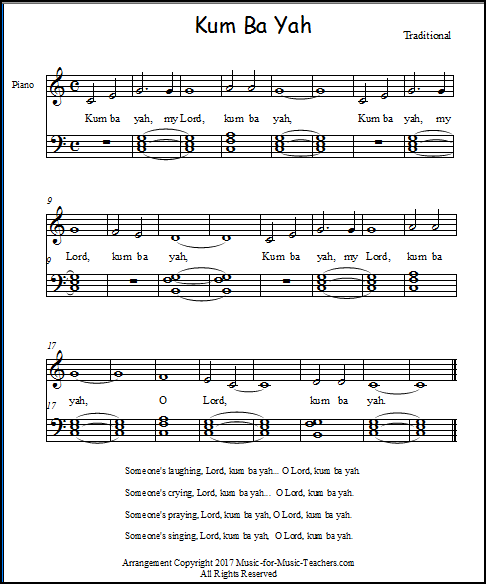 Download easy piano music for Kum Ba Ya
For students wanting to play this melody who are just beginners, try the Middle C arrangements below.  Shown is the "helper" version, with a few notes containing letter names: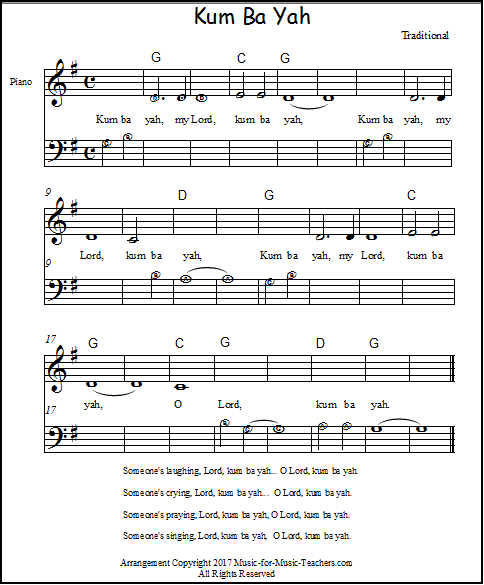 Download Middle C arrangement of Kum Ba Yah

Download same arrangement with AlphaNotes (letters in the noteheads)

Download version with just a few letters in the notes
For guitar players, this is a great beginner song.  Except for the "F" chord in the key of C, all chords used in these three arrangements are EASY.  Plus, the song is slow enough that beginning finger-pickers can get some practice, for the sake of variety from verse to verse.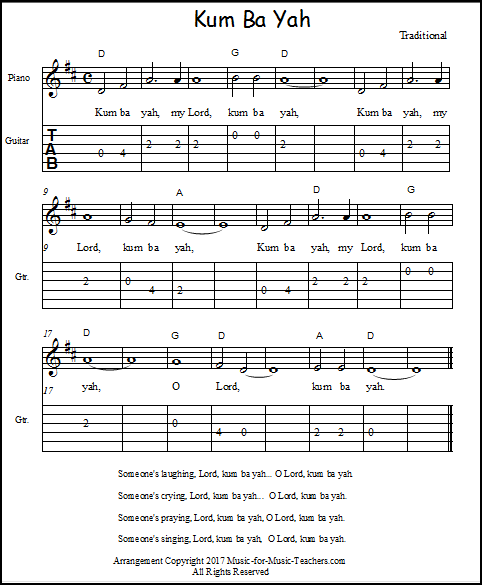 Download sheet with guitar tablature for Kum Ba Yah in the key of C
Download music for guitar in the key of D
Download Kum Ba Ya for guitar in the key of G
Below are lead sheets with chords in seven keys for treble instruments: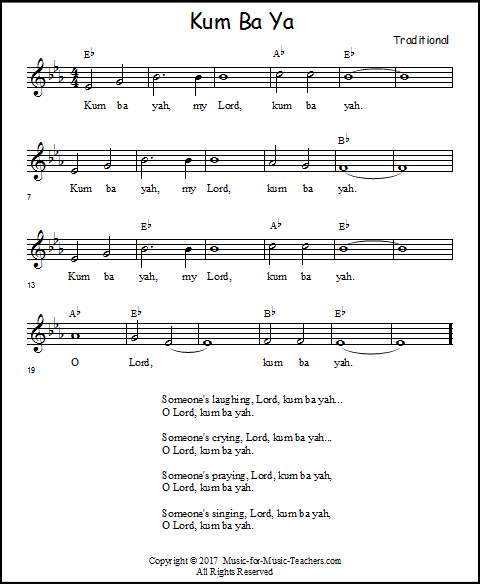 Download lead sheet music for Kum Ba Yah in the key of A
Download lead sheet in the key of Bb
Download Kum Ba Yah lead sheet in the key of C
Download lead sheet music in D
Download Kum Ba Ya sheet music in the key of Eb
Download sheet music for Kum Ba Yah in the key of F
Download Kum Ba Yah in the key of G