Free Fiddle Music
Tenpenny Bit for Guitar
Free fiddle music with guitar tabs -- Tenpenny Bit is a driving, rhythmic jig in 6/8 time. It makes a great ensemble piece or solo for your beginning flat-picking guitar student, with or without a fiddle-player around!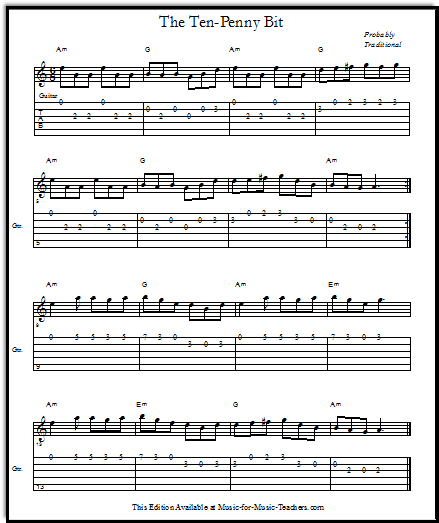 Download free fiddle music Tenpenny Bit, version 1
I have a couple of great links for you, to go along with this beautiful tune Ten Penny Bit with its strong, catchy intervals.
The first link is to the personal site of David Kaynor. He has a long page of PDFs of fiddle tunes he has made available to the public. Since fiddle tunes are frequently great for flatpicking, too, you may want to have a look! (Sometimes I have had trouble getting through to the PDF page, but I just keep going back and trying. This link brings you to the page before the PDF page, unfortunately; then you cast your eye down the list to "Music Transcriptions in PDF" and click on the blue folder icon to the left, or the text itself. Believe me, it works. Just not reliably!)
Dave illustrates in this Youtube video for fiddle players how to bow the violin when playing jigs. 6/8 time feels so different from ordinary 3/4 time. The tune, Tenpenny Bit, shows up about halfway through the video, so just skip what comes before, if you're not interested in what he has to say about bowing the fiddle.
For a guitarist, used to picking "down-up, down-up, down-up," a jig feels different.
Because the rhythm of a jig divides a measure of six eighth notes into two strong pulses instead of three pulses, the picking needs to emphasize beats 1 and 4 instead of 1, 2, and 3. So, instead of 1 2, 3 4, 5 6, the emphasis must be 1 2 3, 4 5 6 to give the melody line proper support.
What this means to the guitar player is (traditionally)  DOWN up DOWN, DOWN up DOWN. At least, that should be in the back of your mind as you wield the pick, as an ideal. It isn't practical in all the measures, or even most of the measures, of Tenpenny Bit!
Here is what Doug Sparling says on a page about jigs from GuitarNoise.com:
"Jigs are in 6/8 time, which can take some getting used to if you haven't flatpicked many jigs or used a lot of triplets in your playing.
"There are a few general guidelines to flatpicking jigs. Jigs are often played with a "lilt" by slightly lengthening the first eighth note of a triplet (on the downstroke) and subsequently shortening the second eighth note (on the upstroke). Another item to consider is picking direction. Unlike reels, which are normally played using alternating picking, with jigs we'll use a downstroke on the downbeats to give them emphasis, which in turn helps give the tune a rhythmic drive.
"For example, we'll pick triplets Down-Up-Down Down-Up-Down (DUD DUD) instead of alternating (DU DU DU). This is a guideline, not a rule…you may like the sound of alternating picking better, and in some places, sticking with one picking pattern may be awkward."
Thank you, Doug! What a great resource GuitarNoise.com is, with its free, detailed, informative lessons.
And here is Ten-Penny Bit again, with changes I added to it after listening to how Dave actually plays it on the video. (There are other changes that could be added, also, but you can add them yourself! The more I listen to this free fiddle music, the more details I notice.)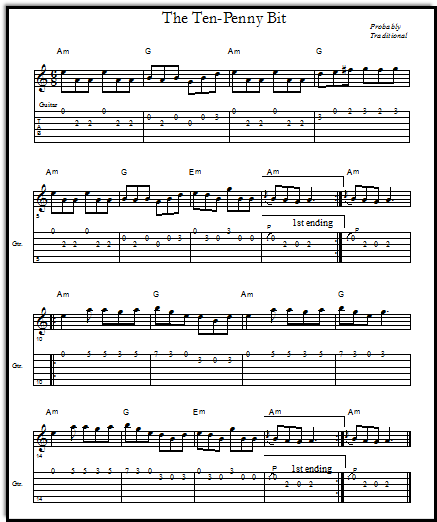 Tenpenny Bit free violin sheet music for flatpicking guitar 
The chords for this free fiddle music are my own suggestion -- you could probably switch the G's and Em's around and not really have it sound too different.
I really love this free fiddle music, Ten Penny Bit-- thanks, David, for making it available!
Comments
Do you have a story or a question about teaching guitar? Do you think it is a hard instrument for beginners, or easy? What have been your challenges?
Please note that all comments are moderated, and will not appear until I have approved them. Also, IF YOU ARE ASKING FOR MUSIC THAT IS NOT IN THE PUBLIC DOMAIN, YOUR REQUEST WILL BE IGNORED. That's pretty much any music written in the last 75 years...