Free Christmas Sheet Music
We Three Kings
Free Christmas sheet music "We Three Kings" for early intermediate piano. All of the Christmas song lyrics are included so you can sing as well as play the music! 
When I was a child, this Christmas song held a kind of mystery for me. The strange words combined with the minor plaintiveness of the melody seemed so lovely that I loved to sing it. Together, the verses create a mood as they hint of the whole life-and-death drama of the Christ Child's story by weaving a tapestry of pictures and feelings.
Listen to this lovely choral version of We Three Kings of Orient by the King's College singers: 
The song for beginning intermediate piano is in two pages: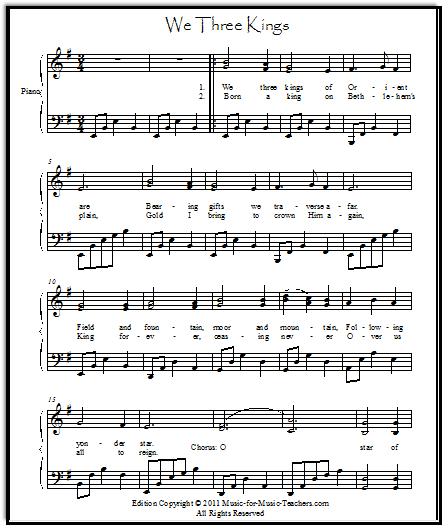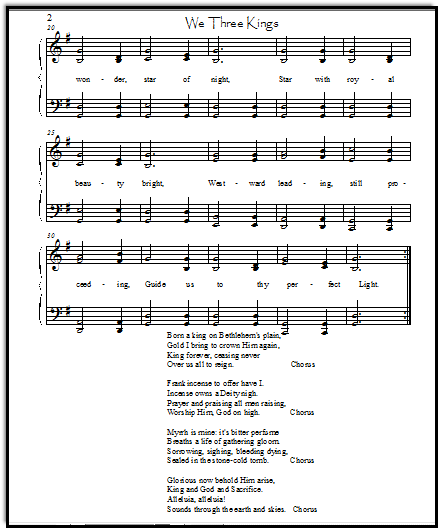 Download free Christmas sheet music "We Three Kings" 

This piano arrangement will be easy for students who have already played Harp Ballad or Brian Boru's March. It moves slowly enough that the parallel thirds in the right hand will not be difficult.
In the chorus, chord inversions are used in both hands (but again, slowly) so that familiarity with those is useful. (See my page Twelve Major Keys Chords and Scales, and download "The Key of C" if this concept is new to you.)
Here are some cute children reenacting the story of "We Three Kings":
Comments
Do you have a funny story about this music, or does it remind you of something you'd like to share with other readers? Do you have a question? I'd love to hear it!

Please note that all comments are moderated, and will not appear until I have approved them. Also, IF YOU ARE ASKING FOR MUSIC THAT IS NOT IN THE PUBLIC DOMAIN, YOUR REQUEST WILL BE IGNORED. That's pretty much any music written in the last 75 years...