Farther On, a Shape-Note Hymn
Farther On is a little-known, beautiful old Shape-Note hymn in the Sacred Harp tradition.
Download this free hymn sheet music as an ensemble arrangement, guitar tabs, or lead sheet.

Here are guitar tabs for Farther On, in the key of G only.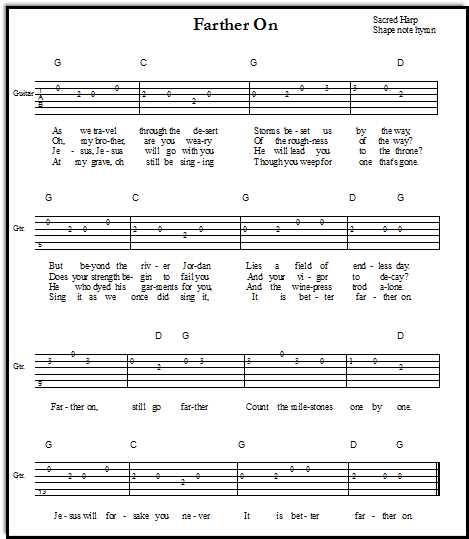 The first time I heard Farther On sung was at a performance of homeschool children and families in Juneau, Alaska. (Since then, my own students have been singing it.) The Zahasky family, homeschoolers as well as being a professional music group known as the Alaska String Band , gave a moving performance of this apparent "new find" among old gospel hymns. (See them in the video above.)

I was immediately captivated and knew I HAD to have that hymn.
Farther On is apparently from the Shape-Note tradition, but it didn't show up in any searches I did the year when I first heard the hymn. However, another kind soul apparently felt the same way as I did about Farther On, and put the Zahaskys' video on Youtube so the whole world can share in the experience.
First, here is the vocal ensemble, in two keys.  Unlike the lead sheet and the guitar tabs (see further down the page), this arrangement is FOR SALE.  
For $3.75 USD total, you may download and print eight copies for your ensemble or church choir!
See pages 1 and 3 in the key of F, and pages 2 & 4 in the key of G, shown below: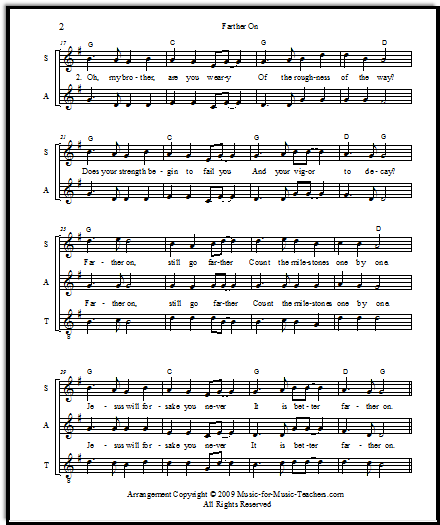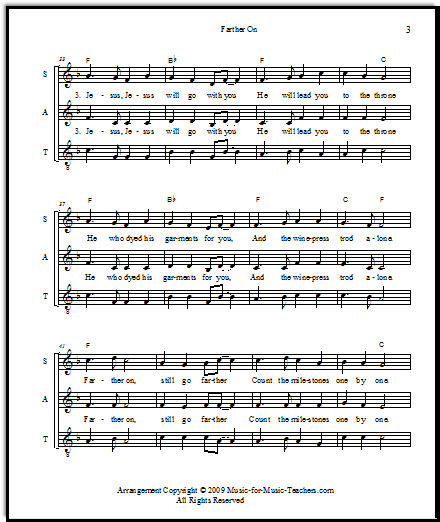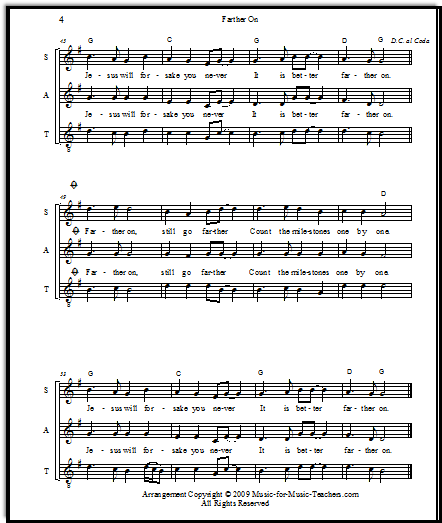 Farther On Ensemble in F, 8 copies, $3.75:
Farther On Ensemble in G, 8 copies,$3.75:
I have arranged the ensemble in the manner in which the Zahaskys performed it. Beginning with a solo joined by the group at the chorus, it turns into a duet, then the group at the refrain again, the group all together on verse 3, then back to a solo on verse 4 (where the music says "De capo al Coda"), and then on to the Coda at page 4, where the Zahaskys turn it into one of the most riveting a capella hymns I have ever heard. Page 4 really has nothing different from any of the other choruses, except 2 extra notes in the tenor line. 
Here is a lead sheet with guitar chords (or piano chords) in 4 different keys: D, E, F, and G. What's interesting is that the Zahaskay family is singing it in the key of Gb, using a capo on the guitar. It is a nice key for the daughter's voice, and a great key for piano.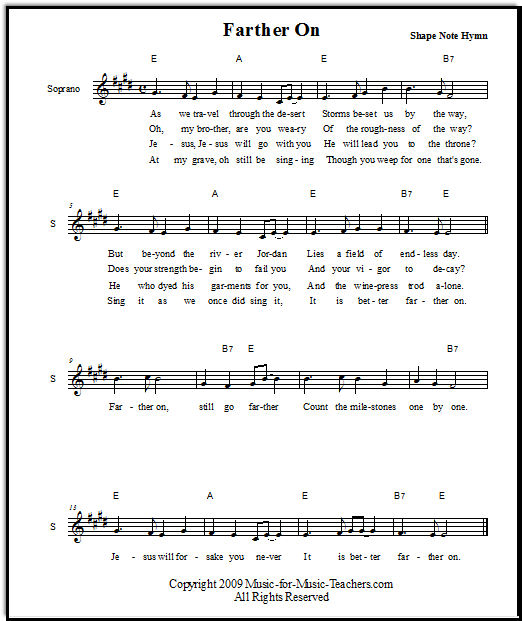 Farther On lead sheet in the key of D 

In the key of E, as pictured above 

In the key of F 

And finally, in the key of G 


I like to use the lead sheet version of this Shape note music for piano students who are learning to add left hand chords to simple melodies.  Once they have nailed that, then (if they are advanced enough) we start adding right hand harmony by adding chord tones under the melody in the right hand.  This is only fun for the student when they really love the song -- so I don't press it.
There is an interesting story about verse 3, which begins "Jesus, Jesus will go with you..."
This verse is not found in any collection of Farther On lyrics that I came across. The only place I found those words (and variants thereon) were in links to books and articles about Harriet Tubman and the Underground Railroad. (For you non-Americans, she was a famous black woman, a former slave, who ran away and successfully escorted many other slaves to freedom along a secret route from the South to the North. Known as the Underground Railroad, there were "safe houses" along the way where slaves could find refuge from pursuers.)
The story apparently goes that as Harriet (a "conductor" or "engineer" on the Underground Railroad) approached the slave quarters where a group of potential runaways waited, she would sing a song (not Farther On) which included the words, "Jesus, Jesus will go with you..."
If she sang the song twice through, that meant it was safe to come out and follow her. If, instead, she switched to a different song and sang, "Go down, Moses, 'way down in Egypt land..." (a spiritual lamenting the bondage of Israel in Egypt, but really slavery in America), that was a warning that it was not safe!
If anyone knows more about this story, please let me know through my Contact Form. I want to be accurate. I would also like to know how these words came to be attached to Farther On.
The more I hear, play, and sing this hymn, the more beautiful and poignant the words and music seem to become. I can imagine that this song would be memorable among very comforting graveside, memorial or funeral hymns.
Comments
Do you have a story or a question about teaching guitar? Do you think it is a hard instrument for beginners, or easy? What have been your challenges?