Easiest Guitar Tab to Play
Open Strings
Easiest guitar tab to play for beginner guitar students -- open strings! I use this sheet of tablature exercises in the first week of guitar lessons. Start your students off learning how to read guitar tabs right away. 
Guitar tablature is fun to show new students, because it so intuitively represents the guitar neck.
The left side of the tablature staff is like the head of the guitar; the right side is the guitar bridge. Represented at the bottom of the staff is string 6, the thickest, lowest string. At the top of the staff is string 1, the thinnest, highest-sounding string.
Reading from left to right, the numbers on the strings stand for which fret to press with the left hand fingers. The number "0" means "open string" -- pluck that string without pressing down any frets.
This exercise sheet is ALL open strings: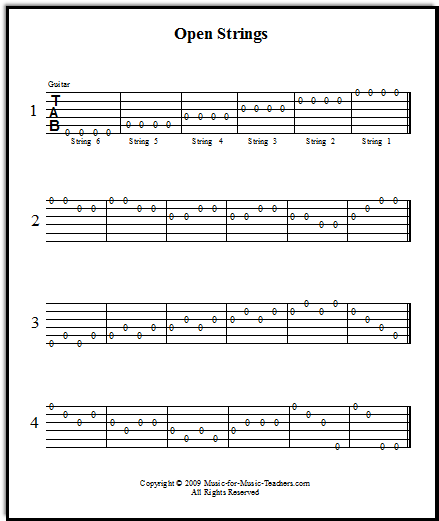 Download simple guitar tabs for beginners
This "easiest guitar tab to play" sheet is really almost a "hand/eye coordination" exercise. Can they match their right hand gesture (whether using a pick or a thumb) to the notation on the tab? 
No fret numbers on the strings takes a lot of the "fear factor" out of the job -- they can concentrate on just one hand at a time. That lowers the stress level, and makes it more likely they will remember your instructions when they get home and start to practice... that easy success helps students feel pleased with themselves.
My personal preference as a teacher is to start students without a pick for the first few weeks of guitar lessons. Contact with the strings is so much easier and accurate with the thumb and fingers than with a pick, I think. After they have gotten used to plucking strings in a rhythmic manner and strumming, then I introduce the pick.
I don't give them all the exercises the first week! Probably only the first two, then save #3 and #4 for the next two weeks as their skills increase. It is always tempting to load students up with LOTS of GOOD stuff -- then the following week you find out it was just too much of a good thing!
Comments
Do you have a story or a question about teaching guitar? Do you think it is a hard instrument for beginners, or easy? What have been your challenges?
Please note that all comments are moderated, and will not appear until I have approved them. Also, IF YOU ARE ASKING FOR MUSIC THAT IS NOT IN THE PUBLIC DOMAIN, YOUR REQUEST WILL BE IGNORED. That's pretty much any music written in the last 75 years...