Christmas Carol Lyrics
from the Bible

Lo, I Bring You Tidings
Christmas carol lyrics from the Bible and an old-fashioned carol-like tune combine in this free Christmas song for SATB choir or a solo vocalist with guitar.
Even though I wrote the lyrics and tune myself, I have to say I am still moved at the beauty of the words, mostly chosen from the King James version of the Bible, which tell the story of Mary being filled with wonder at the Child to whom she has given birth.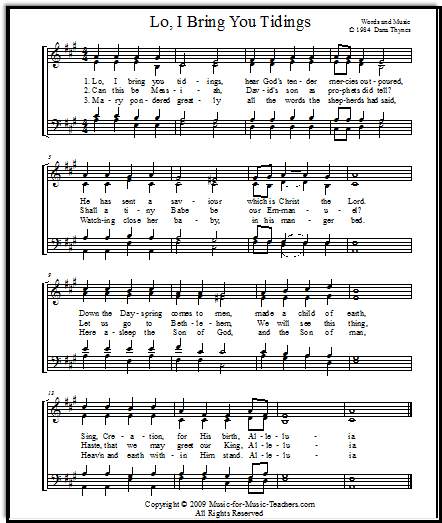 Download and print free choral sheet music Lo, I Bring You Tidings in the key of A 

I am sorry I do not have an audio for you! You'll just have to print out these Christmas piano songs and try them for yourself.
Here it is in the key of G.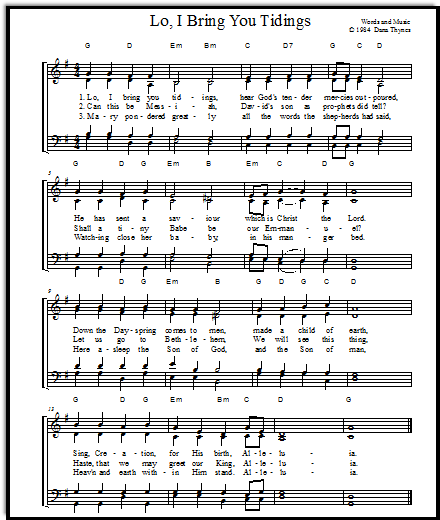 Download Christmas carol lyrics Lo, I Bring You Tidings in the key of G 
Here is a voice and guitar tabs version in the key of G.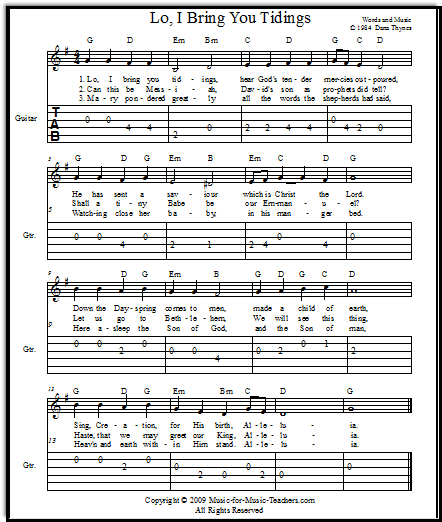 Download guitar tablature for Lo, I Bring You Tidings 

Guitarists, notice that there are 2 kinds of B chords -- Bm and B. The melody will not sound right if you fail to use the right chord.
I hope you enjoy this song with its scripture-based Christmas carol lyrics. It is copyrighted, but I give permission to use it in private and church performances. Please include attribution. For any other use (such as recording), please write me for permission.

Lo, I bring you tidings, hear God's tender mercies out-poured:
He has sent a saviour which is Christ the Lord.
Down the Dayspring comes to men, made a child of earth,
Sing, Creation, for His birth! Alleluia.
Can this be Messiah, David's son, as prophets did tell?
Shall a tiny Babe be our Emmanuel?
Let us go to Bethlehem, We will see this thing.
Haste, that we may greet our King, Alleluia.
Mary pondered greatly all the words the shepherds had said,
Watching close her baby, in his manger bed.
"Here asleep the Son of God, and the Son of man,
Heav'n and earth within Him stand. Alleluia!"
Comments: Do you have a story or a question about music teaching? Share it!
Please note that all comments are moderated, and will not appear until I have approved them. Also, IF YOU ARE ASKING FOR MUSIC THAT IS NOT IN THE PUBLIC DOMAIN, YOUR REQUEST WILL BE IGNORED. That's pretty much any music written in the last 75 years...