Pachelbel's Canon in D
for Beginners
The Pachelbel Canon in D for beginners, free printable sheet music -- only the versions on this page are arranged in the key of C!  Check out the new long & fancy version for early notereaders at the bottom of the page.
This is the beautiful music, I tell young beginners, that you often hear in movies and in real life at weddings, when the bridesmaids are walking down the aisle. Floating-on-clouds music!
For beginners, this piece really needs to be in the key of C. Here are the two simplest versions I offer. (Go to the page with the longer, harder versions.) 

Frankly, they are not all that simple. Make sure your student has familiarity with chords, and with the high treble clef notes before they start this piece ---things will go much more smoothly.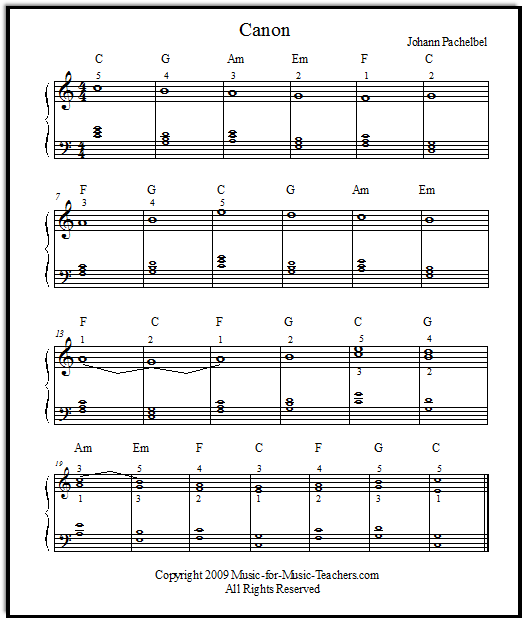 Download free printable sheet music for Canon in D. This version has my favorite fingering. 

You may not like my fingering!  So here is the same piece, with no fingering written in: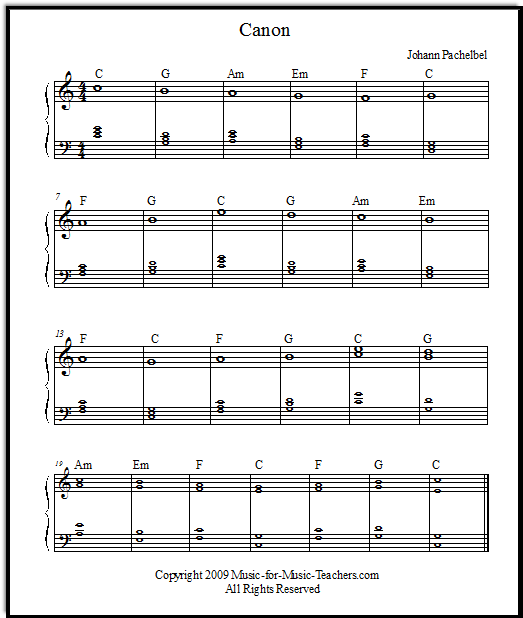 Download free sheet music with no fingering 

I suggest playing it as a duet at lessons for a couple of weeks (each of you on just one hand, then switching), and sending them home with only the chords for their weekly assignment. Why?
Here's what a kid still scared of high treble clef notes may do once they get home:
They may look at the bold letter "C" above the first treble clef note, vaguely remember that you did say the first RH (right hand) note is a "C", and so the RH note in the second measure (there where the letter G appears) MUST be a G...even though it doesn't sound right...and the note in the third measure must be A, etc. Yes, IT HAPPENS. Even with students who know better. And they play it that way all week, firmly cementing in that habit.

If they don't fall into that trap, they may slip into the other pitfall of assuming the piece is in "C position," not bother to read the notes, and just play "5, 4, 3, 2, 1" etc. starting on "g, f, e, d, c" all week long. Yuck! They'll wonder how the piece lost its magic.
What makes the Canon doubly hard for beginners is that the LH keeps moving around -- not like their lesson books!
Kids usually EXPECT to place both hands in "C position" -- that is, with both hands' bottom fingers on C. You can blame their method book for this shortcoming, or you can blame yourself! But it's a problem you have to work at again and again with young notereaders.

Try assigning just the first 8 measures in week one, chords only. Make sure those chords are solid before starting the RH.
This second version is still easy, but very pretty with the broken chords.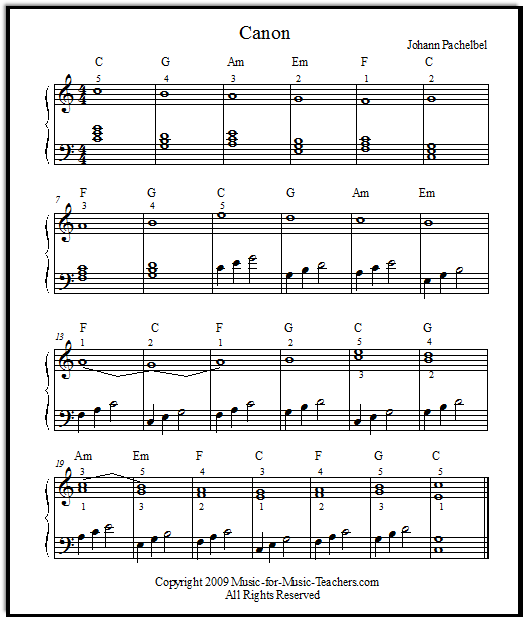 Download free printable sheet music version with broken chords 

And here is the same version, but once again, without any fingering: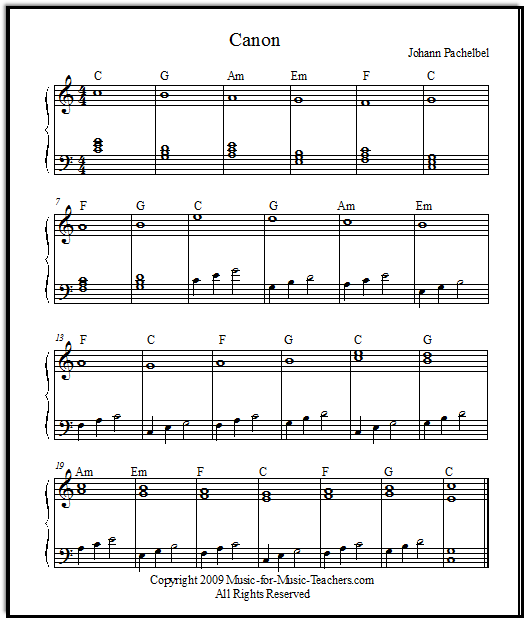 Download broken chord version with no fingering 

Even if you approach this piece slowly, it doesn't have to be boring. Even if your beginning student plays just the chords, the Pachelbel Canon is still beautiful. 
Can even beginning notereaders learn to play this beautiful music in its longer, fuller form?  I decided to see...
I have a little guy who plays with passion, understands chords, and loves classical music, but who relies on his ear and his quick memory to conquer his music more than I would like!  He is an Artful NOTE-Dodger.  He is long past the super-easy Canon in D sheet music, but he wanted to play a version with the quickly-moving notes of the middle section, the familiar part that even non-musicians recognize.  I decided to help him, if he promised that he would use the fingering I demanded.  He promised.  This is the result (the small graphics are pages 1 and 3; page 2 is large so you can see what I'm talking about with the fingering!):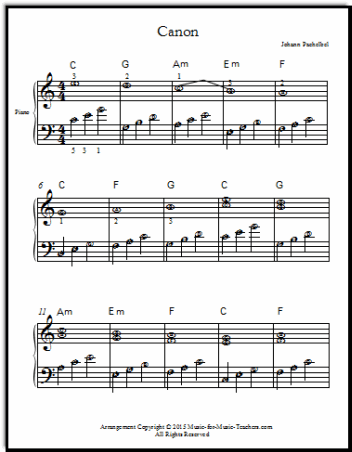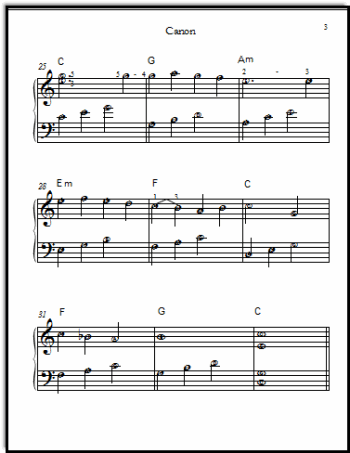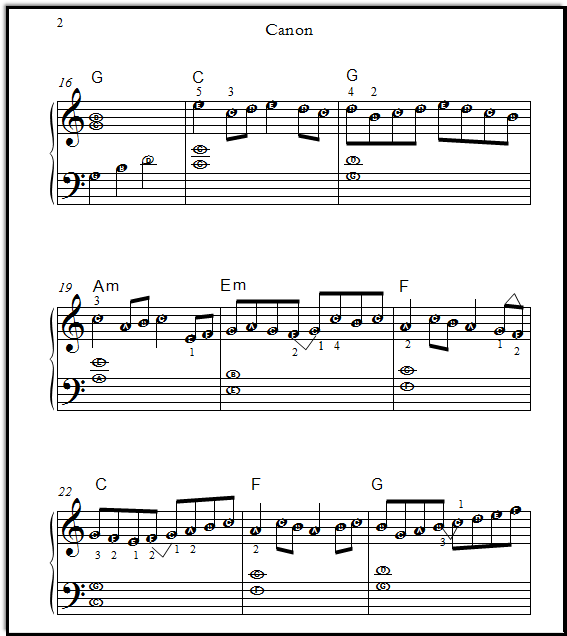 This arrangement, plus two companion arrangements, is for sale --  $5.00 USD for three easy-to-read arrangements of the Pachelbel Canon, with the right to print UNLIMITED COPIES (for your students only).
I'm excited for you to see the confidence with which your young students will embark on a long and beautiful piece like this with the note names to confirm or correct what their ears may be telling them!  With a little extra help, they can be playing this song - CORRECTLY - long before they would ever meet it in their method books.  I've watched it happen over and over.
When you buy this music, you will receive 3 versions (same arrangement), each 3 pages long.
Arrangement #1 has a letter in each music notehead, plus chord symbols and some suggested fingering.
Arrangement #2 has no chord symbols and no fingering at all, for there is a possibility that you or your students might prefer a different fingering.
Arrangement #3, a "helper" version, is similar to #1.  The chord symbols are retained, as well as the suggested fingering for the middle section, but only a few helper notes are used.  Those are placed mostly at the beginning of a musical line, the beginning of a new section, and the tricky middle section where the hand must execute tucking-under and crossing-over.
BUY ALL THREE VERSIONS OF THIS ARRANGEMENT FOR A TOTAL OF $5.00!
Here is a page from the arrangement with no chord symbols and no fingering, and a page from the "helper" arrangement with just a few lettered notes and some fingering: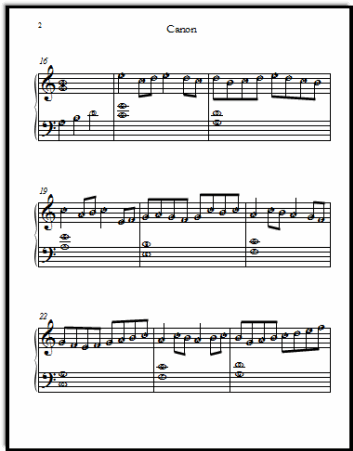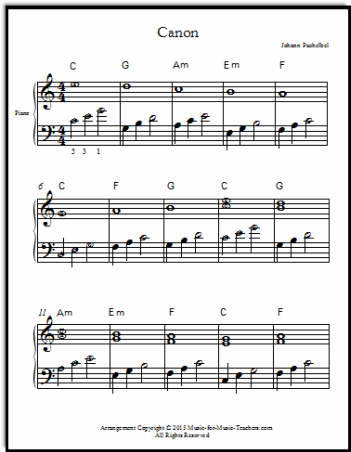 Aside from the fact that these music sheets are going to give your beginner piano students the confidence to work on a hard, "real" piece of famous music,  why should you buy the Pachelbel Canon from me?

The 9-page collection is available immediately as a digital download onto your computer, for only $5.00

You don't have to download any new software into your computer in order to acquire the PDF. I don't know about you, but I detest clogging up my computer with yet another program I didn't know I needed. You just need a version of Adobe Acrobat or another PDF reader,

which all computers come with. If you DON'T have Adobe Acrobat or a similar program, then you couldn't download any of my other PDFs either.

The notes are nice and big, making reading easy.

I give you permission to PRINT UNLIMITED COPIES, for your students only. This is a real deal! Ordinarily, one music book, for just one student, will cost at least $5.00, and then there is tax and postage. Please do not share with anyone besides your students.

Paypal, the payment system I use, is a secure and recognized payment system. You can pay by credit or debit card, or your bank account. E-Junkie delivers the PDF document, working as a partner with PayPal... your purchase is guaranteed.  Any problems downloading? Email me through the Contact link.
Get Pachelbel Canon Now
$5.00 USD

Comments
Do you have a funny story about this music, or does it remind you of something you'd like to share with other readers? Do you have a question? I'd love to hear it!

Please note that all comments are moderated, and will not appear until I have approved them. Also, IF YOU ARE ASKING FOR MUSIC THAT IS NOT IN THE PUBLIC DOMAIN, YOUR REQUEST WILL BE IGNORED. That's pretty much any music written in the last 75 years...