Ah, Poor Bird, a Singing Round
Ah Poor Bird is one of the easiest and loveliest of rounds for singers. It has a melancholy minor sound that matches the words well, and is fairly easy to learn, with its climbing scale up to the leap in the third line, then back down again.
This singing round works well as a "listening" kind of vocal warmup, in which your student sings their part slowly against the contrasting line YOU are singing. This takes great concentration!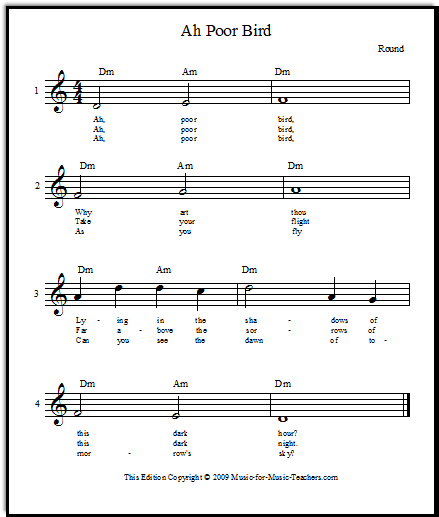 Free printable vocal music Ah Poor Bird 

If you are new to singing rounds with your students, I highly recommend playing their part on the piano with them, while you softly sing the part that follows theirs. (This takes great concentration until you are accustomed to it!  Eventually, some of your most capable students will be able to sight-sing the notes without help from the piano, but this takes time and understanding of music theory also.)
The fastest way I've found to get kids singing rounds accurately is to have a partner or two sharing their part, while I sing against them. After a couple times through the notes, we might clap the rhythm, or better yet, count aloud as we sing the notes. If the tune is "Ah, Poor Bird," we might count it like this:
"1-2, 3-4, 1-(2-3-4), 1-2, 3-4, 1-(2-3-4), 1, 2, 3, 4, 1-2, 3, 4, 1-2, 3-4, 1-(2-3-4)."
I hope that makes sense! For a non-notereader, as some singers tend to be, I would probably count NOTE UNITS rather than measures of 4 beats. Then it would sound like this:
"1-2, 1-2, 1-(2-3-4)," etc. Even if they don't read well, they need to be able to count! 
Because every verse starts with a vowel ("A"), students have an opportunity -- perhaps a glaring opportunity! -- to work on smooth entrances in this singing round. 
They need to be able to enter without an audible pop or roughness. Just learning to listen to the sound of their own inhalations and exhalations is a big step for beginners.
Vocal rounds can be hard at first, but they are very worthwhile for teaching kids to hear other musical parts while staying on their own. 
Below is a simply but nicely sung rendition of Ah Poor Bird that mixes it up with "Hey, Ho, Nobody Home".
Comments
Do you have a story or even a question about this vocal piece? Share it!

Please note that all comments are moderated, and will not appear until I have approved them. Also, IF YOU ARE ASKING FOR MUSIC THAT IS NOT IN THE PUBLIC DOMAIN, YOUR REQUEST WILL BE IGNORED. That's pretty much any music written in the last 75 years...
What Other Visitors Have Said
Click below to see contributions from other visitors to this page...

Origins and composer of Ah Poor Bird

Hello, I'm struggling to find a composer or origin for Ah Poor Bird. Can you help? Many thanks! Dana: Sadly, I haven't had any luck either.